Geagea: Relations between Hezbollah, Aoun are commercial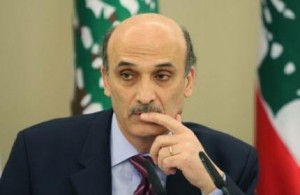 Lebanese Forces leader Samir Geagea said in a statement on Thursday that his ties with the top Christian spiritual leader in Lebanon , Maronite Patriarch Bechara Boutros al-Rai are back to normal.
"The ties with Rai are now warmer and I will meet with him once the security situation allows it," Geagea said.
Geagea also said that the relations between Hezbollah and its ally, the leader of the Free Patriotic Movement Michel Aoun, were "commercial," adding " FPM's taking to the streets is for the sole purpose of gaining popularity."
Rai's stance towards the Arab uprisings, especially in Syria, had sparked criticism from March 14 figures, including Geagea.
Commenting on the assassinations in Syria Geagea said : "The demise of Bashar al-Assad's regime in Damascus is a matter of time and the Christians have crossed 40 of their most difficult years in their history."
During an interview with the media Geagea also commented on the upcoming 2013 elections : "The Battle of the elections in 2013 will be very severe and I am afraid that the other team could attempt to create certain security conditions in order to exercise enough pressure that could result in canceling the elections because it realizes the outcome will not be in its interest."