Suicide attacker with fake U.S. ID blamed in Bus Bomb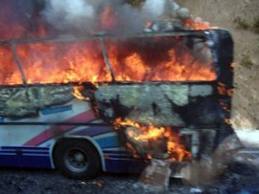 BURGAS, Bulgaria — The attack on a tour bus carrying Israeli vacationers outside the airport here was carried out by a suicide bomber carrying fake American identification, officials said on Thursday.
There were conflicting reports on the number of dead. The Bulgarian interior minister said the toll was seven, including six Israelis. Officials in Israel said, however, that only five Israelis had been killed. The Bulgarian driver of the bus was also killed along with the bomber when the vehicle exploded in a fireball on Wednesday. Dozens more were injured in what Bulgaria, Israel and the United States called a terrorist attack. Israel quickly blamed Iran and promised a firm response.
There was no immediate claim of responsibility but Israeli officials blamed Hezbollah, the Lebanese militant group, and Iran.
Speaking to reporters at the airport at this Black Sea resort on Thursday morning, Interior Minister Tsvetan Tsvetanov said the bomber was carrying a fake Michigan driver's license at the time of the blast. One of the six Israeli victims died overnight, along with the 36-year-old Bulgarian bus driver.
Mr. Tsvetanov described the bomber as a man with long hair wearing a backpack. The man looked like a tourist and blended in with the travelers from Israel, security footage showed.
The bomber was a white male wearing glasses and the driver's license was "more or less intact," according to a Bulgarian official with knowledge of the investigation.
"He either had turned with his backpack toward the bus when he exploded it or pretended he was one of the group putting his backpack in the baggage compartment under the bus," the official said. "Video footage clearly shows him in the airport earlier wandering back and forth, following the group, looking nervous."
"In no way did this person distinguish himself from the arriving tourists who were in the area," Mr. Tsvetanov said.
The police were checking his fingerprints against international databases and were also analyzing the attacker's DNA, he said.
"Our priority now is to determine the identity of the attacker," Mr. Tsvetanov said.
Bulgarian authorities said they were working together with the F.B.I., the C.I.A., Israeli intelligence services and Interpol. Mr. Tsvetanov said that the F.B.I. determined that the driver's license was a fake and that the person described on the card did not exist. He said that Bulgarian government had spoken with John O. Brennan, President Obama's top counterterrorism adviser, overnight.
An Israeli Defense Force plane carrying 33 of the wounded took off from Burgas for Israel Thursday morning is expected to land at Ben Gurion Airport, then disperse passengers to hospitals around the country, an military spokesman in Jerusalem said. The dead were to be flown back later in the day.
Israel's foreign minister said Thursday morning that there was clear evidence that Hezbollah, the Lebanese militant group with close ties to Iran, was responsible for the attack, "with the close cooperation of the Iranian Revolutionary Guard."
"I cannot get into all the operational details, but the identification is certain," the minister, Avigdor Lieberman, said in an interview on Israel Radio. "From immediately after the attack, we worked hard and now the puzzle is put together, the identity and the responsibility are completely clear."
Prime Minister Benjamin Netanyahu, who on Wednesday night promised a "forceful response" to the attack, spent much of the morning in security briefings. Danny Ayalon, Israel's deputy foreign minister, said the response would be diplomatic as well as operational, including a complaint to the United National Security Council and an effort to have Hezbollah added to the list of international terror groups.
Meanwhile, Defense Minister Ehud Barak found himself on the defensive for failing to thwart the attack, as Bulgarian and Israeli intelligence officers managed to do with a similar attempt in January.
"The world is big and full of places where these people act," Mr. Barak said. "We try to find every crack. The success of our intelligence and of others has been great, but there are days that are painful, and yesterday was one such day. This is a mishap, mishaps happen, this is not negligence."
Iran had no immediate official comment on Israel's accusations but news agencies quoted state television as rejecting the accusation.
No group claimed responsibility for the blast but if the Israeli accusations are confirmed, the blast would be the first successful attempt by Iranian operatives to kill Israelis in attacks abroad after a string of failed bomb plots targeting Israeli diplomats in Georgia, India and Thailand this year.
Even without such confirmation, the Bulgarian explosion escalated the tensions between Israel and Iran that are already high because of the Iranian nuclear energy program, which Israel has called a guise for Iran to develop nuclear weapons despite Tehran's repeated denials.
The explosion came only a few days after a suspected operative of Hezbollah was arrested in Cyprus on suspicion of plotting to kill Israeli tourists there.
In the capital, Sofia, home to most of the 5,000 Bulgarian Jews in the overwhelmingly Christian country of more than seven million, the mayor ordered police deployments in all public places linked to the Jewish community, The Associated Press reported.
In Washington, President Obama said in a statement that he strongly condemned "today's barbaric terrorist attack on Israelis in Bulgaria," but he did not specifically accuse Iran.
In what appeared to be an Obama administration effort to reinforce his support for Israel, which Mr. Obama's Republican adversary, Mitt Romney, has called into question, the White House also said in a separate statement that Mr. Obama had called Prime Minister Benjamin Netanyahu to offer his condolences, and had "pledged to stand with Israel in this difficult time, and provide whatever assistance is necessary to identify and bring to justice the perpetrators."
"All signs point to Iran," Mr. Netanyahu said in a statement Wednesday. He and other Israeli officials noted that the explosion came on the 18th anniversary of a bombing of an Argentine Jewish center in Buenos Aires that killed 85 people and wounded hundreds, an attack for which Argentine prosecutors have blamed Iran.
Bellicose adversaries, Israel and Iran have a long history of accusing each other of terrorist attacks. Iran, which does not recognize Israel's right to exist and has sometimes referred to Israel as a Zionist plague on the Middle East, has blamed Israeli agents for a string of assassinations of Iranian nuclear scientists over the past five years, for which Iran has vowed revenge.
Israel has never confirmed or denied responsibility for those assassinations.
Mr. Netanyahu's statement recalled what Israel has described as Iranian plots to target Israelis in Thailand, India, Georgia, Kenya, Cyprus and other countries. He called such a pattern a "global Iranian terror onslaught, and Israel will react firmly to it."
Burgas is a popular destination for Israelis. The explosion occurred outside the terminal shortly after the victims arrived via a charter flight from Tel Aviv with 154 people, including eight children.
"We were just getting on the bus when suddenly someone came near the bus's front door and exploded," Gal Malka told an Israeli television station. "We heard a boom and next thing we saw were body parts scattered on the ground. There were wounded people also on the ground. I could see a burned hole in the side of the bus."
Oren Katz described tamping down the flames of a woman who had caught fire. "It was strange that there were so many security people around but none of them seemed to be focused on actually helping the wounded people, and couldn't believe that I of all people was the one taking care of this burning woman and stopping her from burning up."
Burgas is 250 miles east of Sofia. In recent years Burgas has become popular as an inexpensive destination for groups of Israeli teenagers taking trips after finishing high school and before their military service.
Some Iran analysts in Israel counseled caution about assigning responsibility for the Bulgaria blast until more evidence was presented. "It's far too early to conclude who was behind the bombing in Bulgaria today," said Meir Javedanfar, an Iran expert at the Interdisciplinary Center in Herzliya, Israel. "For now all we have to go on are assumptions, and a list of credible suspects."
He did not rule out Al Qaeda, recalling the deadly attack on Israeli tourists at a hotel in Mombasa, Kenya, in 2002.
NY Times