MP Fatfat: There is a rebellion against the army's leadership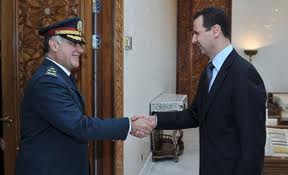 March 14 MP Ahmad Fatfat on Tuesday held Lebanese army chief Jean Kahwaji responsible for Monday's protest in the Kesrouan town of Sarba.
"Army members were present with the protesters and they did not take any measures to end the protest," Fatfat told Voice of Lebanon
"This means there is rebellion against the army's leadership," he added.
His comments come after a number of "relatives and friends" (of the Lebanese army's officers that were detained over the May killing of two Sunni clerics in Akkar), blocked the road outside the army barracks in Sarba on Monday.
The protesters demanded the release of the arrested officers, according to a report by LBC television .
Fatfat called on Kahwaji "to open an investigation" into such protests. He added that the army was "for all Lebanese people."
Fatfat also called for the resignation of Defense Minister Fayez Ghosn over" his statements that reflect clear bias and negatively affect the Lebanese army".
Last May, army troops shot dead the prominent Sunni anti-Syrian Sheikh Ahmad Abdel Wahed and his bodyguard Sheikh Mohammad Hussein Merheb, when their convoy allegedly failed to stop at a checkpoint in North Lebanon, the scene of deadly clashes linked to the uprising in Syria.
11 of the 16 army suspects in the killing of the cleric and his bodyguard were released earlier this month by the military court before the investigation was concluded.
March 14 considers the military court controlled by Hezbollah.
Hezbollah which currently dominates the Lebanese government backs the Syrian regime in its 16 months crackdown against the pro-democracy protesters.
Photo: file photo of Lebanese army chief Jean Kahwaji with Syrian president Bashar Al Assad in Damascus, Syria