UN: Syrian refugees almost tripled to 112,000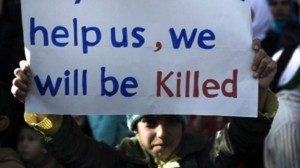 The United Nations says the number of Syrian refugees who have sought help from it since April has almost tripled to 112,000.
The U.N. refugee agency says women and children make up three-quarters of the Syrians who it has registered or assisted in Iraq, Jordan, Lebanon and Turkey.
Agency spokesman Adrian Edwards says Tuesday in Geneva that the actual number is probably "significantly higher" and that many Syrian refugees are completely dependent on humanitarian aid.
Edwards says at least 40,000 Syrians have sought refuge in Turkey. Jordan has seen 33,400 refugees, while 30,900 have arrived in Lebanon. Another 7,900 have sought sanctuary in Iraq.
CBS