Russia drafts resolution to extend U.N. Syria mission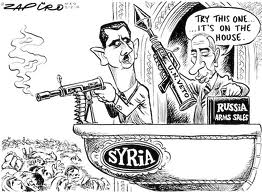 Russia circulated among U.N. Security Council members on Tuesday a draft resolution to extend a U.N. mission in Syria for three months so it can shift focus from monitoring a non-existent truce to securing a political solution to the conflict.
The deeply divided council must decide the future of the mission, known as UNSMIS, before July 20 when its initial 90-day mandate expires. International envoy Kofi Annan is due to brief the council on Wednesday on his bid to broker peace in Syria.
Syrian President Bashar al-Assad's forces have killed more than 15,000 people since a crackdown on pro-democracy protesters began in March 2011, some Western leaders say. Damascus says rebels have killed several thousand of its security forces.
The Russian draft resolution is unlikely to satisfy the United States and European council members, who have called for a resolution under Chapter 7 of the U.N. Charter, which allows the council to authorize actions ranging from diplomatic and economic sanctions to military intervention.
U.S. officials have said they are talking about sanctions on Syria, not military intervention.
Russia's Deputy U.N. Ambassador Alexander Pankin said a resolution under Chapter 7 would be "counterproductive" in what he described as a "delicate situation." Russia and China have previously vetoed U.N. resolutions designed to pressure Assad.
"There is no mention of Chapter 7 (in the Russian draft) and that's a matter of principle for us because we believe the special envoy is doing a commendable job," Pankin told Reuters. "(The draft) is a continuation of the mission bearing in mind the recommendations of the Secretary-General."
MORE PRESSURE
U.N. chief Ban Ki-moon has recommended the emphasis of UNSMIS' work shift from military observers – who suspended most of their monitoring activities on June 16 because of increased risk amid rising violence – to the roughly 100 civilian staff focusing on a political solution and issues like human rights.
The mission would keep its current mandate for up to 300 unarmed observers under this option, but significantly fewer likely would be needed to support the new focus.
The Russian draft resolution, obtained by Reuters, does not specify a number but "stresses the need for UNSMIS to have a military observer capability to conduct effective verification and fact-finding tasks."
It also "calls upon all Syrian parties to guarantee the safety of UNSMIS personnel without prejudice to its freedom of movement and access, and stresses that the primary responsibility in this regard lies with the Syrian authorities."
The resolution also strongly urges all parties to cease all violence and stressed "that it is for the Syrian people to find a political solution and that the Syrian parties must be prepared to put forward effective and mutually acceptable interlocutors" to work with Annan toward an agreement.
One Security Council diplomat, who did not want to be named, described the Russian draft as "basically a rollover."
"At the very least it needs to be combined with some real pressure on the parties," he said. "The council will need to address the Syria situation in a more comprehensive way."
Annan met with Assad in Damascus on Monday before traveling to Iran and Iraq for talks on the conflict. Annan said Assad had suggested easing the conflict on a step-by-step basis, starting with districts that have suffered the worst violence.
Reuters