Romney shifting his presidential campaign to Israel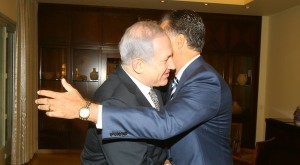 Mitt Romney, the presumptive Republican presidential nominee, plans to shift his campaign to Israel. He plans to visit the Jewish state this summer to meet with Prime Minister Benjamin Netanyahu and other leaders.
Romney, who has pledged to "do the opposite" of the Obama administration on matters pertaining to Israel, is also expected to meet with Salam Fayyad, the prime minister of the Palestinian Authority; President Shimon Peres of Israel; the American ambassador, Daniel B. Shapiro; and leaders of the opposition Labor Party in Jerusalem. He plans to have at least one public event in a trip that will likely last less than two days.
"He's a strong friend of Israel and we'll be happy to meet with him," said Ron Dermer, Netanyahu's senior adviser, who worked with Republicans in the United States before immigrating here. "We value strong bipartisan support for Israel and we're sure it will only deepen that."
For Romney, the trip is an opportunity to appeal both to Jewish voters and donors, whose overwhelming support of President Obama has softened, according to some polls, and to evangelical Christians, whose trust he is still fighting to win. At the March conference of the American Israel Public Affairs Committee, the pro-Israel lobby known as Aipac, Romney vowed that Israel would be the destination of his first foreign trip as president, underscoring the fact that Obama has not visited here since his election, a sore spot among some Israel supporters.
Obama, too, came here as a presidential candidate, in July 2008 before his speech in Berlin. He met with Netanyahu — then the leader of the opposition — as well as Israel's prime minister, defense minister, Fayyad and Mahmoud Abbas, the president of the Palestinian Authority. He visited Yad Vashem, the Holocaust memorial and museum, and Sderot, the Israeli town near the border of the Gaza Strip that is the frequent target of missile attacks.
This will be Romney's fourth visit to Israel. He first came with his family on a Mormon Church trip, according to a campaign official, then served as a keynote speaker at the Herzliya Conference on security in 2007. In January 2011, he spent three days here during a swing that also included Afghanistan and Jordan.
Presidential candidates rarely leave the United States during the heat of the campaign; Mr. Romney, who was chief executive of the Olympic Games in Salt Lake City in 2002, also plans to attend the Olympic opening ceremonies in London, and it is yet unclear whether Israel will be tacked onto that trip or be scheduled separately.
While the visit could distract from the Republicans' main line of attack against Obama, the economy, it is an opportunity for Romney, who as a former governor has little foreign policy experience, to play the statesman.
He has repeatedly tried to paint himself as a closer friend of Israel than the president, who he has accused of "throwing Israel under the bus," and as more hawkish on the Iranian nuclear program, which Israel sees as an existential threat.
"I understand that in Israel, geography is security," Romney said via satellite at the Aipac conference in March, drawing applause by promising to "never call for a return to the indefensible" borders before the 1967 war in which Israel captured East Jerusalem and the West Bank.
He also said that the Obama administration had "visibly warmed to the Palestinian cause," and that he believed "Israel's continued existence as a Jewish state is a vital national interest of the United States."
Obama and Netanyahu have had a rocky relationship. Early on, the administration insisted on a freeze of Jewish settlements in the West Bank. But last fall, Obama intervened to block the Palestinian Authority from obtaining recognition at the United Nations. They have differed somewhat in approach to Iran, but since a March meeting in the White House seem to have reached something of a détente.
In a statement, Ben LaBolt, an Obama campaign spokesman, said: "Governor Romney has said he would do the opposite of what President Obama has done in our relations with Israel. Now he must specify how — does that mean he would reverse President Obama's policies of sending Israel the largest security assistance packages in history? Does it mean he would let Israel stand alone at the United Nations, or that he would stop funding the Iron Dome system? Does it mean he would abandon the coalition working together to confront Iran's nuclear ambitions?"
Some Republicans have also tried to play up Mr. Romney's longstanding personal ties to Mr. Netanyahu — the two men worked together in 1976 at the Boston Consulting Group. They are not close friends but have kept up ties through the years. Mr. Netanyahu offered Mr. Romney pointers on how to shrink government in Massachusetts, and Mr. Romney later counseled Mr. Netanyahu on which American officials to meet with as he tried to encourage pension funds to divest of Iranian businesses. On Super Tuesday, the prime minister gave the candidate a personal telephone briefing about Iran.
Dermer said the men would probably meet over a meal at the prime minister's residence, though details have not yet been decided.
"The prime minister meets Democratic and Republican officials alike," he said. "I'm sure they want to broadcast a very strong relationship with Israel, and Israel wants to broadcast a very strong bipartisan relationship with both sides of the aisle."
NY times