Putin, Ahmadinejad to meet in Beijing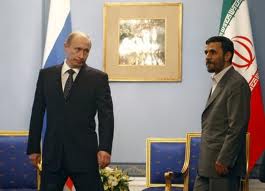 Russian President Vladimir Putin says he'll talk with Iranian counterpart Mahmoud Ahmadinejad at the Shanghai Cooperation Organization in Beijing.
The Putin-Ahmadinejad talks in Beijing come as the Russian president prepares to host the so-called "P5+1" group — the five permanent members of the U.N. Security Council plus Germany — this month in a round of negotiations on aimed at halting Iran's suspected nuclear weapons program.
The Kremlin made the announcement Sunday through Yuri Ushakov, a former ambassador to the United States who advises the Russian leader on foreign policy, RIA Novosti reported.
He said Putin's meeting with Ahmadinejad and on the sidelines of the SCO conference will allow him to "feel the heat surrounding the Iranian problem and see how this issue is perceived in Tehran."
UPI