Lebanon economy at the 'edge of the abyss', report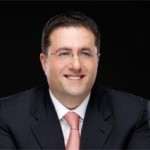 General Union of Chambers of Commerce, Industry and Agriculture chief said on Monday that Lebanon's economy "has reached the edge of the abyss," and warned that if the status quo continues, salaries would be cut by half."
"Since the beginning of 2012, all indications confirm that our economy has reached the edge of the abyss," Mohammad Choucair told Future TV.
Choucair said that "all productive sectors are suffering and there is an unemployment problem due to the number of workers that are being sacked."
He told Future TV that the "2010 economic growth [was brought about by] a government that [inspired confidence] to investors."
In 2010 the government was dominated by the Western-backed March 14 alliance.
Choucair added that the economic commissions will submit "a memorandum" to President Michel Suleiman and voiced hope that the document would be brought up during the upcoming national dialogue session.
Choucair's comments come after Lebanon's private sector sounded the alarm bells Monday warning Lebanese leaders against a deepening economic crisis if political bickering persists amid a deteriorating security situation and ongoing regional turmoil.
"While we acknowledge the magnitude of political complications, which are directly related to regional developments, particularly in neighboring Syria, political parties seem unfortunately unaware of the negative repercussions that might ensue from the ongoing political and security tension," head of Lebanon's Economic Committees Adnan Kassar said.
Kassar said the private sector was supportive of the government's disassociation policy on Damascus, arguing that any Lebanese intervention in the Syrian crisis would complicate the domestic political situation.
Last week, Suleiman sent invitations to the members of the national dialogue committee calling on them to convene on June 11 at 11 a.m. at the Baabda Presidential Palace to discuss various issues, including Hezbollah's arms.
However, some members of the Western-backed March 14 coalition said they reject taking part in the national dialogue session unless Prime Minister Najib Mikati's cabinet resigns and a neutral cabinet is formed to supervise the elections of 2013
Now Lebanon, Daily Star