Suleiman had friendly talks in Kuwait, report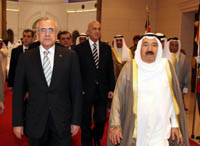 Lebanese President Michel Suleiman returned Sunday evening from Kuwait where he held talks with Emir Sheikh Sabah al-Ahmed al-Sabah over "strengthening the brotherly and special bilateral ties" between the two countries and discussed "the latest developments in the region and the world," Kuwait's news agency KUNA reported.
Suleiman, who arrived in Kuwait at noon Sunday, was accompanied by Deputy Prime Minister Samir Moqbel.
The talks "witnessed a friendly atmosphere that reflected the spirit of brotherhood that characterizes the bilateral ties and the common desire for further cooperation and coordination at all levels, in a manner that would contribute to consolidating and reinforcing Arab solidarity," KUNA said.
The meeting was attended by Kuwait's Crown Prince Sheikh Nawwaf al-Ahmed al-Sabah, Prime Minister Sheikh Jaber al-Mubarak al-Sabah and other top Kuwaiti officials.
Suleiman's trip to Kuwait came after talks on Friday in Jeddah with Saudi King Abdullah bin Abdul Aziz.
The president announced last Wednesday that he would visit Kuwait "to promote tourism" after four Gulf Cooperation Council countries, including Kuwait issued a travel advisory , restricting travel to Lebanon.
The United Arab Emirates, Qatar, and Bahrain in addition to Kuwait issued the travel advisory after the deadly clashes erupted between pro- and anti-Syrian groups in Beirut and the northern city of Tripoli last month.
Prior to his visit to Kuwait Suleiman said Saturday that the Lebanese people are anxiously waiting for Kuwaiti tourists this summer.
"The Lebanese are anxiously awaiting the Kuwaitis this summer during the tourism season," he told Kuna. " He added: "Lebanon officially and at the popular level is ready to embrace them and ensure their security, freedom and dignity."