After massacre UN observers warn of Syria civil war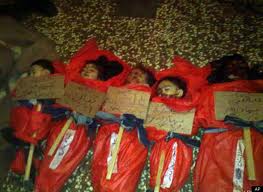 The head of a UN mission has warned of "civil war" in Syria after his observers counted more than 92 bodies, 32 of them children, in the central town of Houla following reports of a massacre there.
UN Secretary General Ban Ki-moon joined a chorus of international condemnation on Saturday amid mounting calls for world action to halt the bloodshed.
The rebel Free Syrian Army (FSA) said it was no longer committed to the UN-backed peace plan for Syria unless there was prompt UN intervention to protect civilians, and called for air strikes against regime forces.
UN head of mission Major General Robert Mood called what happened in Houla a "brutal tragedy."
"This morning UN military and civilian observers went to Houla and counted more than 32 children and over 60 adults killed," Mood told reporters in Damascus Saturday. A monitoring group said 114 people had been killed in Houla.
"Whoever started, whoever responded and whoever carried out this deplorable act of violence should be held responsible," Mood said.
"Those using violence for their own agendas will create more instability, more unpredictability and may lead the country to civil war," he added.
Ban and Kofi Annan, the UN and Arab League envoy who brokered a truce which has been flouted daily since it came into effect April 12, said the massacre is a "brutal" breach of international law.
"This appalling and brutal crime, involving indiscriminate and disproportionate use of force, is a flagrant violation of international law," a UN spokesman quoted Ban and Annan as saying.
US Secretary of State Hillary Clinton also condemned the "atrocity" and said Washington would would work with its international allies to increase the pressure on President Bashar al-Assad and his "cronies"
"Rule by murder and fear must come to an end," she declared.
Condemnation also poured from the European Union. Britain, France and Germany, with French Foreign Minister Laurent Fabius saying he was making "immediate arrangements" for a meeting of the Friends of Syria group.
His British counterpart William Hague said "we will be calling for an urgent session of the UN Security Council in the coming days."
German Foreign Minister Guido Westerwelle said he was "shocked and horrified" by the killings.
Mood confirmed that artillery and tanks had pounded Houla and called "on the Syrian government to cease the use of heavy weapons and to all parties to cease violence in all its forms."
Amateur videos posted on YouTube showed horrifying images of dead children, with at least one child's head partly blown away.
The massacre will heighten the importance of a trip Annan is to make to Syria "soon," his spokesman said, while the Security Council is due to discuss Syria on Wednesday.
UAE Foreign Minister Sheikh Abdullah bin Zayed al-Nahayan called for an urgent Arab League meeting, saying the "massacre shows the failure of Arab and international efforts to stop the violence against civilians in Syria."
The six-nation Gulf Cooperation Council, of which the UAE is a member, urged the international community to "assume its responsibilities" to end the bloodshed.
A statement by the Free Syrian Army said it could no longer commit to the ceasefire and that unless the Security Council takes urgent steps to protect civilians, "Annan's plan is going to go to hell."
Earlier the head of the FSA's military council, Turkey-based General Mustafa Ahmed al-Sheikh, urged the Friends of Syria nations to launch air strikes against President Assad's forces.
Killings in Houla and elsewhere are taking place "under the eyes of the UN observers," the FSA said, urging the international community to "announce the failure of the Annan plan."
The opposition Syrian National Council (SNC) for its part demanded prompt UN Security Council action.
SNC spokeswoman Basma Kodmani said "some of the victims were hit by heavy artillery while others, entire families, were massacred."
The Britain-based Observatory said the shelling of Houla began at around midday on Friday and continued until dawn on Saturday, and said 114 people were killed.
State news agency SANA blamed "armed terrorist groups" for the killings, adding that "clashes led to the killing of several terrorists and the martyrdom of several members of the special forces."
The UN-backed peace plan included the ceasefire that technically began on April 12, but the truce has been breached daily, with the Observatory saying nearly 1,500 people have been killed since April 12.
"Annan is singlehandedly responsible for the Houla massacre," read a sign held by a protester in the northwestern Idlib province town of Kfarnabel on Saturday.
A UN statement said Annan will convey to Damascus "in the clearest terms the expectations of the international community, and he will also do so during his forthcoming visit to Syria."
Regime forces also pounded rebel positions in Homs province on Saturday while helicopter gunships strafed rebels near the Turkish border, said the Observatory which reported 18 deaths elsewhere, including 13 civilians.
The Observatory says more than 12,600 people have been killed since the uprising demanding reforms and regime change began in March last year.
BP