U.S. seeks Russia's help in removing Assad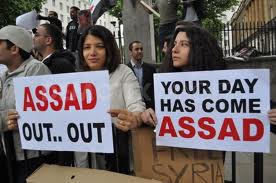 In a new effort to halt more than a year of bloodshed in Syria, President Barack Obama will try to broker the departure of President Bashar Assad under a proposal modeled on the transition in another strife-torn Arab country, Yemen.
The plan calls for a negotiated political settlement that would satisfy Syrian opposition groups but that could leave remnants of Assad's government in place. Its goal is the kind of transition under way in Yemen, where after months of violent unrest, President Ali Abdullah Saleh agreed to step down and hand control to his vice president, Abdu Rabbu Mansour Hadi, in a deal arranged by Yemen's Arab neighbors. Hadi, though later elected in an uncontested vote, is viewed as a transitional leader.
The success of the plan hinges on Russia, one of Assad's staunchest allies, which has strongly opposed his removal. In the past year, Russia has blocked any tough United Nations action against Assad.
But Russia is facing intense international pressure to use its influence to bring about the removal of Assad as the killings in Syria continue unabated.
In a region convulsed by political uprisings, Russian leaders are fearful that Syria is their last bastion of influence. Syria is Moscow's main Middle East ally, home to a Russian naval base and extensive Russian oil and gas investments.
American officials say they are ready to reassure their Russian counterparts that Moscow would be able to maintain its close ties in a post-Assad Syria.
Obama, administration officials said, will press the proposal with Russian President Vladimir Putin next month.
my san antonio