Another child dies in Deraa as civil war continues in Syria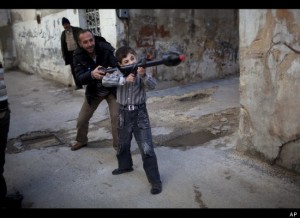 A car bomb exploded in Syria's southern city of Deraa on Monday, activists said, killing up to three people in a neighborhood where fighting between rebels and state forces has been fierce. Activist Maher Abdelhaq told Reuters a schoolgirl was killed in the blast and that 25 were wounded.
Other opposition groups offered different accounts. The Syrian Observatory for Human Rights said the bomb targeted a military vehicle and killed three members of state security forces. Another activist from Deraa said no one was killed in the explosion.
Reports from inside Syria are hard to verify as the government has restricted media access in the country.
The year-long revolt against President Bashar al-Assad's rule has grown increasingly deadly since it began as a peaceful protest movement, as rebels and army deserters clash with state forces who say they are fighting foreign-backed militants.
More than 7,500 people have died in the crackdown against the uprising, according to the United Nations, while the government says about 2,500 security personnel have died.
"The car exploded at nine in the morning in al-Kashef neighborhood in front of al-Mahatta High School for Girls, which has been active in (anti-Assad) demonstrations," Maher Abdelhaq told Reuters from the city, which lies close to the Jordanian border.
According to the British-based Observatory, the blast occurred near a military depot and was followed by heavy clashes. It gave no casualty figures from the fighting.
An activist from the al-Kashef neighborhood said the rebels, known as the Free Syrian Army, made the bomb but the blast did not cause casualties.
"The Free Syrian Army and regime forces fight on this same street almost every day and some of the rebels planted the bomb to target Assad's men but they did not kill anyone," one activist said, speaking on Skype.
"Afterward the regime forces opened fire on the street and three people including a woman were wounded."
The Huffington Post