Syrian regime blames 'terrorists' with backing of Saudi Arabia and Qatar for bloodshed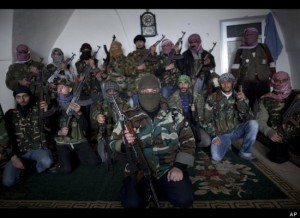 Saudi Arabia and Qatar are backing "armed terrorist gangs" operating in Syria and so are responsible for the bloodshed in the country, Information Minister Adnan Mahmoud told AFP on Monday. Mahmoud accused the "terrorist gangs" of massacring women and children in the restive central city of Homs at the weekend to stoke an international outcry against the Damascus regime.
"Some of the countries backing armed terrorist gangs, such as Saudi Arabia and Qatar, are accomplices to the terrorism targeting the Syrian people… and bear responsibility for the bloodletting," he said.
"Terrorist gangs carried out the most horrible massacre in the Karm az-Zaytoun neighborhood of Homs… in order to incite international reaction against Syria," Mahmoud said.
Earlier on Monday, the Syrian opposition and activists said the bodies of 47 women and children, some of them with their throats slit, had been found in Homs and blamed the killings on the regime.
Syrian state media acknowledged that residents of the central city had been murdered but attributed the deaths to "armed terrorist gangs".
Now Lebanon