IAEA mission to Iran ends in failure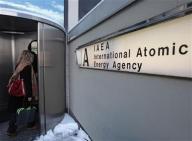 U.N. nuclear officials conceded failure on Tuesday after an extraordinary, two-day visit to Iran yielded no progress in clearing up allegations about the country's pursuit of nuclear weapons technology.
A spokesman for the International Atomic Energy Agency said a delegation from the U.N. nuclear watchdog was returning home after being blocked by Iran from access to key records and sites. The team arrived in Tehran on Sunday at the government's invitation to resolve long-standing disputes over whether Iranian scientists had secretly experimented with nuclear warhead designs nearly a decade ago.
But the IAEA officials were barred from visiting a key testing facility known as Parchin, where some of the research was alleged to have occurred, the spokesman said. Moreover, the U.N. officials were unable to reach an agreement with Iran on a basic work plan for addressing the questions about past nuclear experiments.
"Intensive efforts were made to reach agreement on a document facilitating the clarification of unresolved issues in connection with Iran's nuclear program, particularly those relating to possible military dimensions," the IAEA said in a statement posted late Tuesday on its Web site. "Unfortunately, agreement was not reached on this document."
IAEA Director General Yukiya Amano called the visit's outcome "disappointing."
"We engaged in a constructive spirit, but no agreement was reached," he said.
The trip, the second by the IAEA team in three weeks, had sparked hopes for a breakthrough in a controversy that has soured the U.N. agency's relations with Iran and deepened Western suspicions about Iran's nuclear intentions. The IAEA has repeatedly confronted Iran over scientific papers and other documents — most provided by Western intelligence agencies — that appear to show Iranian scientists working through problems in the design and testing of nuclear warheads.
Iran dismisses the documents as forgeries and maintains that its nuclear projects are intended only for generating electricity.
Iran has frustrated Western governments recently with conflicting messages, mixing conciliatory messages with threats and defiance. Last week, Iranian officials offered to revive long-dormant negotiations with world powers over its nuclear program, and hours later they threatened to cut oil sales to European countries in retaliation for Western sanctions.
WP