Iranian warships dock at Syria's Tartus port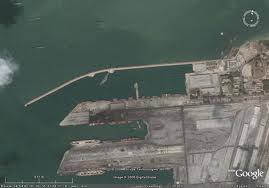 Iranian Press TV reported that the two Iranian warships , the destroyer Shahid Qandi and supply vessel Kharg, had docked at the Syrian city of Tartus after crossing the Suez Canal
According to press TV the ships plan to provide maritime training to Syria's naval forces under an agreement signed between Tehran and Damascus a year ago.
Admiral Habibollah Sayari said in remarks quoted by the official IRNA news agency that the naval deployment to the Mediterranean would show 'the might' of the Islamic republic to regional countries, and also convey Teheran's 'message of peace and friendship.'
This development comes amid heightened tensions between Iran and Israel, fueled by a longstanding dispute over Teheran's nuclear program and rising speculation that Israel might launch preemptive strikes against Iranian facilities.
Iranian naval forces are composed of small units, including speedboats equipped with missiles, which operate in the Gulf and are under the command of the elite Revolutionary Guards.
The navy, using small frigates, destroyers, and three Russian-made Kilo class submarines, oversees high seas missions in the Gulf of Oman and Gulf of Aden.