Angry Iran buries slain scientist, vows revenge against U.S., Israel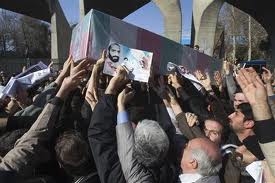 Thousands of angry Iranians demonstrated against the United States and Israel during a burial procession Friday for Mostafa Ahmadi-Roshan, the nuclear chemist who was assassinated this week in broad daylight on a Tehran street.
"I will kill, kill, those who killed my brother," shouted the demonstrators, most of whom were members of Iran's paramilitary Basij forces. Some held up posters depicting President Obama with a Star of David on his forehead and "terrorist" written underneath.
Ayatollah Ali Khamenei, Iran's supreme leader, also threatened revenge, in a letter of condolence to the scientist's family that was made public on Thursday. The 32-year-old chemist was the fourth Iranian scientist killed by bombs in the past two years. He was described by Iranian media as the deputy director of Iran's largest uranium-enrichment facility, near the town of Natanz.
"We will never disregard punishment for the individuals who committed this crime and the elements behind its scene," Khamenei wrote.
Khamenei blamed the CIA and the Mossad, Israel's spy agency, for the killing, which has added to growing tension between Tehran and Washington as President Obama leads a global push for oil sanctions against the Islamic republic.
The Obama administration insists that it played absolutely no role in the attack and is distancing itself from the lethal tactics used. "I want to categorically deny any United States involvement in any kind of act of violence inside Iran," Secretary of State Hillary Rodham Clinton told reporters.
Defense Secretary Leon E. Panetta told soldiers at Fort Bliss in Georgia that the United States has "some ideas as to who might be involved, but we don't know exactly who was involved."
"I can tell you one thing: The United States was not involved in that kind of effort. That's not what the United States does," Panetta said. "We were not involved in any way, in any way, with regards to the assassination that took place there."
Israel, in contrast, has refused to comment on the assassination. But Brig. Gen. Yoav Mordechai, Israel's chief military spokesman, posted a statement on his official Facebook page saying he was not sorry that the scientist was dead.
Ahmadi-Roshan was buried at a Shiite Muslim shrine in North Tehran just after midday prayers.
In the wake of the killing, some Iranian officials are accusing the International Atomic Energy Agency (IAEA) of leaking the names of nuclear scientists to Israel so that Israel can covertly plan to kill them. The Tehran Emrouz newspaper reported Thursday that Ahmadi-Roshan had met with inspectors of the U.N. watchdog about his research.
"Some of the agency's inspectors are Israeli spies, and they have given the names of our scientists to terrorist groups," lawmaker Mohammad Karimi-Rad told the semiofficial Mehr news agency on Friday.
The IAEA said Thursday that it would send a team to Iran at the end of January to discuss the country's nuclear program, which Iran says is designed only to produce energy but that outside experts believe is aimed at weapons production.
After an assassination and an attempted assassination that occurred nearly simultaneously on Nov. 29, 2010, Iran's elite Revolutionary Guard Corps was tasked with protecting those involved in Iran's nuclear program. The latest attack prompted questions from some Iranian lawmakers as to why scientists remained vulnerable.
"Ignoring the protection of these valuable assets will lead to damages that cannot be compensated for," Hossein Sobhani-Nia, a member of parliament's National Security and Foreign Policy Committee, told the semiofficial Tabnak Web site.
WP