Syrian insurgents claim to attack tank in Homs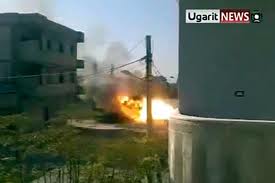 Amateur footage purportedly shows the remains of a Syrian army tank in flames in the central city of Homs after it was attacked by the insurgent group calling itself the Free Syrian Army.
Video uploaded to a social media website shows the blackened remains of a vehicle still burning, after reportedly being attacked by the Free Syrian Army in Homs on Thursday.
The British-based Syrian Observatory for Human Rights said at least 21 people were killed across Syria on the same day.
The attack comes as protests in support of the Free Syrian Army erupted in Aleppo, Deir al-Zour, Homs, Idlib and suburbs of Damascus after Friday prayers.
A French journalist, Gilles Jacquier, was among nine people killed in Homs on Wednesday in what the state news agency SANA described as a mortar attack by "terrorists".
Violence is mounting across the country despite the presence of more than 160 Arab League monitors who are trying to verify the implementation of a peace initiative.
Telegraph