Imam Moussa al-Sadr died in Libyan jail, Al-Liwaa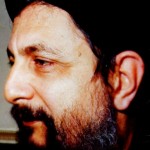 The late Shiite spiritual leader Imam Moussa al-Sadr,, who went missing in Libya during a 1978 visit , died of natural causes in a Tripoli prison 20 years later , Al-Liwaa newspaper reported on Tuesday .
"Imam Moussa al-Sadr, died in his prison cell where he was being held since his disappearance at the hands of security members of the Gadhafi regime in 1978," a source from the Libyan National Transitional Council was quoted as saying by Al-Liwaa newspaper
The source told the daily that Sadr died from natural causes in the summer of 1998 where he was detained in an underground cell at Tripoli's central prison.
In response to a question about the whereabouts of Sadr's body, the source said initial investigation conducted by the Libyan interim national council showed that the corpse may have been taken out of the morgue of the jail by Gadhafi's forces to "cover up the crime " during the first days of the Libyan revolt .
"Gadhafi and the prison warden wanted to hide the traces of the crime that the former regime had denied (of committing) for more than thirty years," the source told al-Liwaa.
The sources revealed that that the body of al-Sadr might be buried in a mass grave in one of Tripoli's suburbs.
Asked about the fate of al-Sadr's companions, the source said that they haven't found any trace of them.
Sadr who founded the Amal Movement which is now headed by Parliament Speaker Nabih Berri, went missing during a visit to Libya on Aug. 31, 1978, along with his two companions – Sheikh Mohammad Yacoub and journalist Abbas Badreddine.