Geagea returns to Beirut after meeting Hariri, key Saudi officals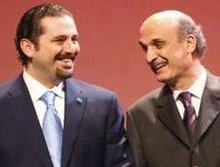 Lebanese Forces leader Samir Geagea returned to Beirut on Tuesday from his trip to Riyadh where he held talks with former Prime Minister Saad Hariri and a number of high-ranking Saudi officials, said a statement by the LF .
Geagea and Hariri held lengthy and comprehensive meetings on the situation in Lebanon and the region, the statement said
Geagea also met with Saudi Crown Prince Nayef bin Abdul Aziz ( who is also the Deputy Prime Minister and Minister of Interior), Saudi Foreign Minister Prince Saud al-Faisal, Minister of Defense Prince Salman bin Abdul Aziz, head of the Saudi General Intelligence Prince Muqrin bin Abdul Aziz.
Hariri urged the Arab League on Monday to seek a "no-fly zone" over Syria, stressing that "everything must be done" to stop what he called a "massacre.
" "The Arab League should go to the U.N. and (seek) a no-fly zone (over Syria) and if Russia vetoes (the resolution) then a joint Arab League force should be formed along with Turkey," Hariri said on his Twitter page.