Iran commander says Egypt turning into 'new Iran'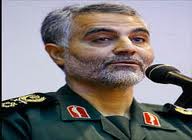 The commander of Iran's elite Quds force said Thursday the revolutionary fervor sweeping Egypt and other Arab countries has given birth to "new Irans" that share anti-US sentiment.
"A number of major (new) Irans have been born in the region today. Egypt is a (new) Iran, whether you accept it or not," Major General Qasem Soleimani told a gathering of 50,000 Basij militia members in the southern city of Kerman in a rare appearance, the Fars news agency reported.
The Quds force is the shadowy special operations unit of Iran's elite Revolutionary Guards which operates abroad. The United States has accused Soleimani and other Quds members of being involved in an alleged plot to assassinate the Saudi ambassador to Washington.
Soleimani's remarks came after deadly clashes in Cairo's Tahrir Square, where protesters were holding renewed pro-democracy demonstrations.
He drew parallels between the upheaval in several Arab countries and Iran's 1979 Islamic revolution, telling arch-foe the United States: "Know that today Libya, Yemen and Bahrain are also (new) Irans."
These "great nations will stand together against the threat" of Western powers, he was quoted as saying, according to AFP.
Tehran has portrayed the Arab spring as being inspired by its own Islamic revolution.
U.S. officials, however, have said they see it as a new movement that could yet spread into Iran and topple the regime there.
Soleimani has long been under scrutiny by U.S. officials, who accuse him of supporting Iraqi militias hostile to the U.S. presence in Iraq.
The Quds chief also responded to comments by two neo-conservative military experts in Congress suggesting, in a hearing in late October, that the United States should assassinate senior Revolutionary Guards commanders, including Soleimani.
"To those who think threats will spread fear amongst us, I will say this: that I ask God to grant me martyrdom (death) at the hands of the enemy," he said.
Arabiya
"I do not see (an assassination) as a threat but rather giving, helping along an old desire," he was quoted as saying.