Ross exit fresh hit for U.S. Mideast policy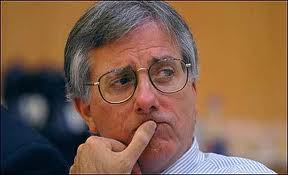 The flagging U.S. effort to broker new Middle East peace talks took a fresh hit on Thursday when presidential advisor Dennis Ross stepped down, leaving the White House without its chief Mideast strategist and one of its most seasoned peace negotiators.
Ross, who served on the National Security Council as a special advisor to President Barack Obama, has been a key figure on the White House Mideast team and also an important voice in U.S. policy on Iran.
"Dennis Ross has an extraordinary record of public service and has been a critical member of the president's team for nearly three years," White House press secretary Jay Carney said in a statement.
Ross had initially pledged to work for Obama for two years, but extended that by another year in light of the Arab Spring upheaval that has reshaped the Middle East, Carney said.
"Obviously, there is still work to do but I promised my wife I would return to government for only two years and we both agreed it is time to act on my promise," Ross said in a brief resignation statement.
Ross' departure could fan doubts over Obama's Mideast peace strategy and follows the resignation in May of Middle East peace envoy George Mitchell.
But some analysts said it would take more concerted effort from Obama himself to get the process moving again.
"The president of the United States on this issue is his own worst and best adviser," said Aaron David Miller, a former senior State Department adviser on the Middle East peace process, now at the Woodrow Wilson Center.
Ross, along with Mitchell's replacement at the State Department, David Hale, tried to revive direct peace talks between the Israelis and the Palestinians, which collapsed more than a year ago with the expiration of a partial Israeli freeze on Jewish settlement construction on land the Palestinians want for their state.
The United States and Israel have strongly opposed a unilateral Palestinian bid this year to achieve U.N. recognition of their statehood, with the United States promising to veto any such measure if it reaches the U.N. Security Council.
But the Palestinians have promised to press ahead, and last month won full admission to the U.N. cultural agency UNESCO, a symbolic victory in their drive to redefine their collective status and relations with foreign powers.
The United States and Israel both say that only direct negotiations can bring a lasting solution to the crisis, and that any moves at the United Nations would only complicate efforts to resume direct talks.
UPHILL PUSH
A State Department official, speaking on background, said Ross had been a valuable member of the Middle East policy team but that the drive to bring the two sides back to the negotiating table would continue.
"We've got a strong team in place and we're going to continue to push forward," the official said.
But there is scant sign of progress, and Ross' departure only highlights the gridlock on the ground.
"Ross may be remembered most for his tireless efforts to produce Middle East peace and how those efforts repeatedly fell short," said Brian Katulis, a security analyst at the Center for American Progress in Washington, D.C.
The "Quartet" of Middle East peace mediators, made up of the United States, the European Union, the United States and Russia, has held separate meetings with the two sides and urged them to make concrete proposals on issues of territory and security within three months.
Quartet envoys are due to hold another round of such meetings on November 14, but Palestinian and Israeli analysts say they see little hope of progress where years of direct talks have failed.
Ross is one of Washington's most experienced Middle East hands and served as Middle East envoy for former President Bill Clinton and also held senior official posts in the Reagan and George W. Bush administrations.
Obama administration officials said Ross had opposed the administration's failed early push for a complete freeze on Israeli construction of Jewish settlements, a policy misstep which undercut later efforts to persuade the Palestinians to accept negotiations without it as a precondition.
People close to Ross said he was increasingly frustrated with the dim prospects for making diplomatic headway, particularly given the domestic U.S. political considerations ahead of the 2012 presidential election.
Ross' exit comes as the United States ponders its next steps toward Iran following the release of a report by the U.N. nuclear watchdog this week that concluded Tehran has worked on developing atomic bomb design and may still be conducting research relevant for such weapons.
Reuters