Assad urged to take up offer of asylum in Arab world
Bashar al-Assad, the Syrian president, has been urged to spare himself the grizzy fate of Col Muammar Gaddafi in Libya by taking up an offer of asylum elsewhere in the Arab world.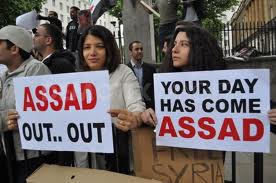 By Adrian Blomfield
Political leaders across the Middle East have concluded that the Syrian strongman is doomed after eight months of bloodshed since the uprising against his rule erupted in March, US officials have said.
Jeffrey Feltman, a US assistant secretary of state, told a Senate committee that a number of states had signalled their willingness to give Mr Assad refuge and immunity from prosecution in the hope of bringing a rapid resolution to the Syrian crisis.
"Almost all the Arab leaders and foreign ministers whom I talk to say the same thing: Assad's rule is coming to an end," he said. "It is inevitable. Some of these Arabs have even begun to offer Assad safe haven to encourage him to leave."
Mr Feltman did not identify which states were willing to take in the Syrian leader, but political figures in the region gave warning that time was running out for Mr Assad to make a decision.
"He basically has two options," a Jordanian official said. "He can either stay in Syria and die in ignominy with his body being dragged through the streets and his country facing bloody chaos. "Or he can choose salvation, both for himself and for Syria, and live a quiet life abroad."
The official would not confirm whether Jordan was among the states that had offered Mr Assad refuge, although he suggested that Saudi Arabia may have done. The Saudis have a pedigree of taking in former dictators from Idi Amin, the late Ugandan dictator, to Zine El Abidine Ben Ali, former Tunisian president who was toppled at the beginning of the year.
But Mr Assad has always had a tricky relationship with Saudi Arabia in part over its hostility to Iran, Syria's closest ally, and also because of a long standing rivalry between Damascus and Riyadh for influence over Lebanon.
Moreover, the Syrian leader has shown little appetite for either reining in the violence his security forces have inflicted on protesters in the past eight months or for heeding the pleas of his Arab peers.
At least 15 people were killed across Syria on Thursday, among them an eight-year old girl, according to human rights groups. More than 3,500 Syrians have been killed since the uprising began, the United Nations estimates.
Six of the dead were Syrian soldiers attacked at a checkpoint near the Turkish border by suspected members of the Free Syrian Army, a rebel outfit consisting primarily of army defectors that has based itself in Turkey with the blessing of its government.
Army defectors have also regularly clashed with Syrian security forces trying to wrest back control of Homs, the only city that remains outside the regime's hands.
Despite growing evidence of armed opposition operating alongside the civilian protest movement, which has remained peaceful and resilient despite repeatedly coming under attack, Mr Assad's security apparatus is far from fragmenting.
The Free Syrian Army, which recently with another group calling itself the Free Officers' Movement, claims to have 15,000 men under its command – a number even the Syrian opposition says is exaggerated.
But even though it has had some success in harrying Mr Assad's forces in border provinces, the group has largely been able to attract only Sunni Arab conscripts and one or two disgruntled officers.
Senior ranks and elite units are largely filled with members of Mr Assad's Alawite Shia minority and have remained loyal, in part because of their fear of sectarian retribution if Syria's Sunni majority were to come to power.