Palestinians' U.N. recognition bid met with apathy on Facebook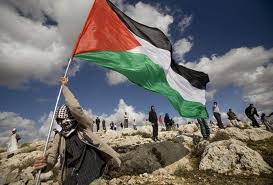 Ramallah, West Bank – Recent college graduate Reem Qadan is exactly the kind of young, energetic West Bank resident the Palestinian Authority hopes will hit the streets this week when it makes its historic case for U.N. membership and statehood recognition.
But rather than use her Facebook page to coordinate plans with friends to join the rallies, the 21-year-old is posting critical messages dismissing the United Nations bid as a "tale of collective mismanagement" by Palestinian leaders. Many of her Facebook friends echoed the sentiments and said they planned to skip the rallies.
In stark contrast with the flurry of diplomacy and international attention being focused on the U.N. campaign, the mood so far on the streets of the West Bank is surprisingly apathetic and sometimes even a little hostile.
"People simply don't care," Qadan said.
Critics said it was unrealistic to expect Palestinians — who have been disappointed by failed peace initiatives many times — to suddenly embrace the U.N. bid. But that hasn't stopped the Palestinian Authority from launching an aggressive campaign to change that.
The authority recently distributed thousands of Palestinian flags and urged everyone to put them on their homes and cars as a sign of support. So far, only a few can be seen in the streets of Ramallah. Even government vehicles are not flying the flags.
To help kick-start a grass-roots campaign, the authority also launched TV and radio advertisements. One features President Obama commenting last year that he hoped to see a sovereign state of Palestine join the U.N. by September 2011, though Obama has said he wants statehood achieved through direct talks, not through the U.N. bid.
Giant rallies have been scheduled for Wednesday and Friday.
To ensure a good turnout, Palestinian Authority President Mahmoud Abbas has called upon members of his Fatah movement, the largest political faction in the West Bank, to attend. About 80,000 government workers will be given time off, and some schools will closed. Thousands of Palestinians are expected to take part in the rallies.
Critics said the Palestinian Authority is partly to blame for the indifference and skepticism because it didn't include the public in the planning process and kept details secret until recently.
"We will not and cannot support an initiative the content of which we do not know," said Jamal Juma, director of Stop the Wall campaign, a West Bank group that organizes regular protests against Israel's separation barrier. He noted that the now-foundering landmark 1993 Oslo peace accords were also reached without public knowledge of its terms.
"The same people who put us on the wrong track with the Oslo process are now telling us we should support an initiative we do not know much about," he said. The Palestinian Authority "has moved this initiative forward without any open discussion about it and now wants the Palestinian people to blindly support it."
Nevertheless, some Palestinians voiced support for the cause.
Malak Hasan, 22, a Birzeit University student, said that she plans to participate in the rallies but that her support was more a matter of principle than genuine excitement about the prospects of the U.N. initiative bringing change.
"We should support the idea because it calls for statehood," she said. "That should be enough reason why we should support it."
Palestinian official Mohammed Shtayyeh, a member of the Fatah Central Committee, said the low expectations among the Palestinian public may have a silver lining because people won't be as disappointed if U.N. membership is rejected.
"We do not want to create false [hope] for our people," he said. "Reality on the ground is going to be the same on the day after the U.N. vote."