Syrian Opposition meets near Damascus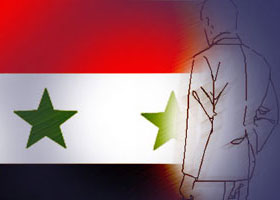 The Syrian opposition consists of a variety of groups with often differing ideologies, including Islamists and secularists, and there have been many meetings of dissidents who say they represent the opposition. But Saturday's meeting was unusual in part because it was held inside Syria, rather than neighboring countries.
About 200 Syrian opposition members have met outside the capital, Damascus, in a significant gathering of dissidents on Syrian soil.
Most of the people who attended the opposition meeting were drawn from Syria's established opposition – who have spent years of their life in prison.
Representatives of the protesters did not attend, fearing arrest, but they supported the meeting and their demands were read out, she adds.
The opposition asked for no international intervention, no sectarianism and no violence.
A news conference was planned for Sunday.
The meeting, held at a private farm outside the capital, follows months of protests against the rule of President Bashar al-Assad.
No arrests were made, although the opposition figures who attended were monitored by security officials.
Saturday's meeting comes two days after opposition parties in exile formed the Syrian National Council in Turkey.
Dr Samir Aita, an opposition figure living abroad who attended the Damascus meeting, told CNN event was significant.
"The importance of this meeting lies in the fact that it is happening in Damascus, on Syrian soil, in support of the protesters despite all the security difficulties," he said.
The Syrian uprising began in mid-March, amid a wave of protests in the Arab world that toppled autocrats in Tunisia, Egypt and Libya. A violent crackdown by security forces has since left more than 2,200 people dead, according to the UN.
The government says hundreds of its personnel have been killed.
Reporting on Syria is notoriously difficult, with the government preventing most journalists from entering.
DP News