Harsher jail sentence awaits Karam, report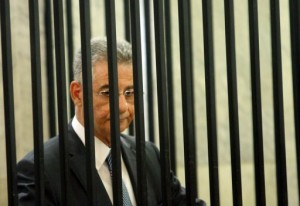 Lebanon's Al-Akhbar newspaper reported on Thursday that the Attorney General's office began studying the file of former Brigadier General Fayez Karam in order to annul the current verdict and request a harsher sentence.
This development comes after the outrage that followed the announcement of the sentence .
Lebanon's military court on Saturday sentenced Karam , a senior Free Patriotic Movement official , to two years in prison for leaking information to Israel.
The Future Movement bloc said in a statement on Sept 6: "How come Karam was only sentenced to two years in prison, while other collaborators are at least sentenced to 20 years?"
The bloc also slammed MP Michel Aoun , who is also the leader of the Free Patriotic Movement (FPM) , for defending Karam,
"We question the position of the FPM and its ally, Hezbollah, which is remaining silent concerning FPM's defense of an Israeli agent."
An unnamed judicial source told Al-Akhbar that the jail term of Karam m ay be increased to 15 years.