Reaction to the verdict against Karam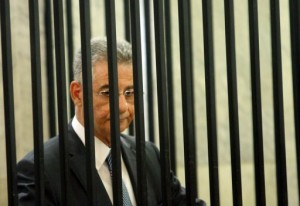 As expected the reaction to the prison sentence of former army general Fayez Karam was mixed ;while March 14 officials thought the sentence was too short when compared to other sentences for similar crimes FPM officials thought the sentence was politicized.
Lebanon's military court on Saturday sentenced Karam , a high ranking member of Free patriotic Movement (FPM) which is allied with Hezbollah to two years in prison for leaking information to Israel, a judicial source said.
"Military prosecutor Fadi Akiki has found retired general Fayez Karam guilty of contacting enemy (Israeli) intelligence… and providing them with political information," mainly on Hezbollah and its ally the Christian Free Patriotic Movement (FPM), the source told AFP.
March 14
March 14 MP Okab Sakr said on Sunday that the verdict issued against retired general Fayez Karam reveals a double scandal.
"Firstly, the verdict shows that Karam is guilty – despite all the declarations of Change and Reform bloc leader MP Michel Aoun and his team – and secondly, it shows inconsistency when dealing with such a serious file, because Karam's fellow collaborators were given sentences ranging between seven years to life in prison," Sakr said in a statement issued by his office.
Sakr also questioned Hezbollah's stance regarding the verdict, especially that the party's leaders have always called for executing traitors as a means to deter collaboration with Israel.
"His sentence was reduced from life in prison to only three years because he is a member of Aoun's political movement [Free Patriotic Movement], and then to a two-year sentence as a token of loyalty from Hezbollah to an allied collaborator."
The MP also scornfully congratulated Hezbollah on its government that on one hand rejects the UN-backed Special Tribunal for Lebanon (STL) probing into the assassination of former Prime Minister Rafik Hariri and accuses it of being an "Israeli court," but on the other reduces the sentence of people who directly collaborated with Israel.
March 14 MP Ahmad Fatfat also said in an interview published on Sunday that the military court's verdict against retired general Karam strengthens the credibility of the Internal Security Forces (ISF) Information branch.
"The verdict did prove that Karam committed an act of treason," Fatfat told An-Nahar newspaper.
Fatfat also said "the jail sentence is very short and encourages people to collaborate with Israel… unless the [general's] political background prevailed and gave political interest priority over the real patriotic standpoint."
FPM
FPM MP Nabil Nicolas said in an interview published on Sunday that the verdict against Karam is a ready-made decision.
"The court must listen to the witnesses, to defense attorneys and to the voice of conscience. It should not issue a verdict based on political reasons…" Nicolas told An-Nahar newspaper.
The MP also said that there was not sufficient evidence to convict Karam, and that the witnesses gave confusing and contradictory testimonies.
FPM MP Ibrahim Kanaan also rejected on Saturday the military court's decision to sentence the former FPM official to two years in prison for leaking information to Israel.
"I regret [this sentence]. All it is based on is [something] void, and the Internal Security Forces Information Branch destroyed all evidence," he told New TV station.
"Where are the recordings [implicating Karam] that the Branch claims it has?" Kanaan asked.
The FPM MP also said that the party will ask for another trial, adding that the sentence "is not final."
Karam, a member of the FPM, was arrested last summer, the first political figure to be detained in Lebanon as part of probe launched in 2009 into Israeli spy networks.
Karam 62, headed the Lebanese army's anti-terrorism and counter-espionage unit during the 1980s and was close to Aoun, who was army chief toward the end of the 1975-1990 civil war.
Aoun, who was staunchly anti-Syrian during the civil war, entered into a controversial alliance with the Iran and Syria-backed Hezbollah in 2006, a year after returning to Lebanon from exile in France.
More than 100 people have been arrested on suspicion of spying for the Israeli Mossad since April 2009, including members of the security forces and telecom employees.
Several have since been sentenced to death, including one found guilty of aiding Israel during its devastating 2006 war with Hezbollah.