Friday's explosion targeted Mughniyeh's son 'Mustafa'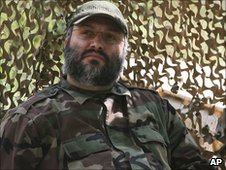 The explosion in Beirut's southern suburbs Friday targeted Mustafa Mughniyeh, son of slain Hezbollah commander Imad Mughniyeh, Lebanese media reported quoting Israel Channel 10 television.
The reports said Mughniyeh, a member of Hezbollah's "operations apparatus," had left the building five minutes before the explosion took place
The reports said one of Mughniyeh's bodyguards was killed in the explosion.
An explosion caused by a bomb or grenade killed a person in the Dahiyeh suburb of southern Beirut, An-Nahar newspaper reported on Saturday .
Al Manar TV , Hezbollah's mouthpiece denied in a report that any body was injured in the explosion and said the explosion was caused by a gas canister when it blew up in the Rweiss neighborhood of Dahiyeh , a Hezbollah stronghold.
NNA said the explosion reverberated across the southern suburbs, prompting ambulances and Civil Defense unites to rush to the scene of the incident.
Imad Mughniyeh, a top military commander in Hezbollah, was killed in a car bomb explosion in Syria in 2008.
According to Israeli reports, the building targeted was Mustapha Mughniyeh's office and not his place of residence.
In a related development Kuwaiti newspaper al-Siyasa has reported that Hezbollah arrested more than 50 members, including three sons of high-ranking commanders, on suspicion of treason.
The report says some of the suspects were transferred to Tehran for questioning. The organization suspects they were involved in the assassination of Imad Mughniyeh, in 2008, and that they supported the anti-government protests in Iran.