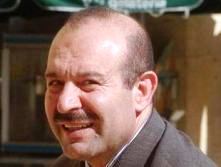 Future Movement official Dr Mustafa allouch told OTV on Monday that Hezbollah "has all the characteristics of a terrorist party."
"Hezbollah is qualified to be a terrorist party regardless whether it assassinated former Prime Minister Rafik Hariri in 2005 or not," Allouch said
He said that Hezbollah is "carrying out its terrorism by moving toward the practice of the Wilayat al-Faqih" system in Lebanon, in reference to the present Islamic system of government in Iran
He also said that US President Barack Obama accused Hezbollah of political assassinations in a Sunday speech "because he might have certain data that backs his beliefs ."
US President Barack Obama accused Hezbollah of carrying out political assassination and pledged Sunday that the United States will stand up to the Iranian-backed militant group.
"Iran continues to support terrorism across the region, including providing weapons and funds to terrorist organizations," Obama said in reference to Hezbollah
Hezbollah brought down PM Saad Hariri's government on January 12 Special Tribunal for Lebanon ( STL) 's imminent indictment which is widely expected to implicate Hezbollah members in the assassination of the father of caretaker PM
Lebanon has been run by a caretaker government since last January. Nagib Mikati was appointed in January as the PM designate with the backing of the Hezbollah led-March 8 alliance, MPs Walid Jumblatt and Mohammad Safadi . March 14 leaders have repeatedly said that intimidation from Hezbollah's weapons helped secure the parliamentary majority for Mikati's nomination.
Hezbollah reportedly threatened to kill Jumblatt and members of his parliamentary bloc if they did not vote for their candidate ( Mikati) during the presidential consultations aimed at appointing a PM designate to form a new government .
Jumblatt, Mikat, Safadi and all members of their blocs were elected by March 14 votes in the 2009 elections.