MP: Cabinet won't see the light if linked to Syria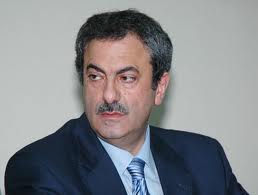 Change and Reform bloc MP Farid al-Khazen told VOL on Monday: If the cabinet formation was linked to Syria's developments, then it will not see the light. The Premier-designate has no reason not to take the initiative to form the government.
Lebanon has been run by a caretaker government since last January. Nagib Mikati was appointed in January as the PM designate with the backing of the Hezbollah led-March 8 alliance, MPs Walid Jumblatt and Mohammad Safadi . March 14 leaders have repeatedly said that intimidation from Hezbollah's weapons helped secure the parliamentary majority for Mikati's nomination.
Hezbollah brought down PM Saad Hariri's government on January 12 over STL's imminent indictment which is widely expected to implicate Hezbollah members in the assassination of the father of caretaker PM