EU imposes sanctions on Syria's Assad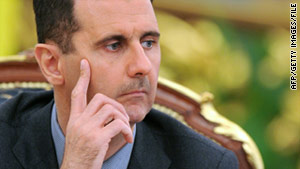 The 27-member European Union has imposed sanctions on Syrian President Bashar Assad over his regime's crackdown on anti-government protesters.
More than 900 people are said to have been killed in two months of violence, although that figure is difficult to confirm as media access in the country is tightly controlled.
Assad was not among 13 people with ties to the Syrian regime who were hit with sanctions by the EU earlier this month. Assad was not included then, as the EU wanted to gradually ramp up the sanctions.
British Foreign Secretary William Hague said Monday that sanctioning was "the right thing to do." Hague made the comment on his way into a meeting of EU foreign ministers in Brussels
Assad came to power in 2000 when he took over from his father. The family has run Syria for 40 years.
CBC