Nato 'cannot reach me', Gaddafi says
Libyan leader Col Muammar Gaddafi has said he is in a place where Nato bombs "cannot reach", in an audio message broadcast on state television.
He also condemned as cowardly an attack on his compound in Tripoli on Thursday.
Libyan officials said the strike killed three people. Nato officials said a command-and-control bunker was hit.
Col Gaddafi's statement came after Italy's foreign minister said he had probably been wounded in an air strike and was believed to have left Tripoli.
Italian Foreign Minister Franco Frattini said he heard the report from the Roman Catholic bishop of Tripoli, Giovanni Innocenzo Martinelli.
"He told us that Gaddafi is very probably outside Tripoli and is probably also wounded. We don't know where or how," he said.
Mr Frattini also said international pressure was causing "the disintegration of the regime from the inside".
The Vatican's spokesman, Father Federico Lombardi, told the BBC that he could not confirm that Bishop Martinelli had made the comments.
Libyan government spokesman Moussa Ibrahim said the report was "nonsense". He insisted Col Gaddafi had not been harmed by any strikes and was "leading the country day by day" from Tripoli.
"The leader is in very good health, high morale and high spirits."
'Crusader cowards'
Then on Friday evening, state TV unexpectedly broadcast a message from Col Gaddafi which sought to prove that he was alive and well.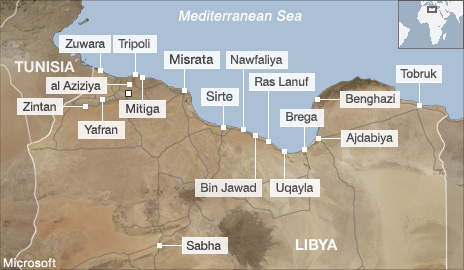 He thanked those outside Libya who had "expressed deep and strong concern, enthusiasm and love for me by carrying out all these contacts to enquire about my safety after hearing about the Crusader, cowardly and treacherous missile attack" on the Bab al-Aziziya compound.
"I say to the Crusader cowards that I live in a place that you cannot reach and kill me in it because I live in the hearts of the millions," he added.
"Immortality is for the martyrs, and death, infamy and disgrace are for the treacherous agents and their cowardly masters."
The BBC's Christian Fraser was shown the aftermath of an apparent airstrike in Tripoli
Mr Ibrahim said that early on Thursday missiles had hit a spot near where Libyans, some with their children, gather at night to show their support for Col Gaddafi. He showed journalists a small park near one of the craters where children were playing on a carousel.
Nato said that in addition to the command-and-control bunker complex at Bab al-Aziziya, other targets on the same day included anti-aircraft missile launchers near Tripoli and several buildings and gun emplacements being used by government forces in their siege of the western city of Misrata.
State TV also reported that a Nato strike on the eastern city of Brega on Friday had killed at least 16 civilians and wounded up to 40 others. It showed pictures of at least nine bodies wrapped in blankets.
A Nato official in Naples said it did not have any information on the report.
Meanwhile, the prosecutor of the International Criminal Court (ICC), Luis Moreno-Ocampo, said that on Monday he would seek arrest warrants for three people considered most responsible for crimes against humanity in Libya. Diplomats said Col Gaddafi was likely to top the list.
Last week, he said forces loyal to Col Gaddafi were murdering and persecuting civilians in widespread and systematic attacks.BBC