Mideast envoy George Mitchell to resign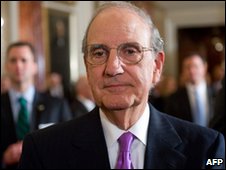 The White House's chief envoy on Middle East peace resigned his post Friday after two years of unsuccessful efforts to restart a reconciliation process between Israelis and Palestinians, administration officials confirmed.
The decision by George Mitchell, the former Senate majority leader who helped broker a peace accord in Northern Ireland in the 1990s, was expected to be formally announced by President Obama later in the afternoon. There was no immediate comment from the White House about the reasons for his departure.
"The president will have a paper statement with regard to that later today," White House spokesman Jay Carney said.
Mitchell's resignation comes ahead of a potentially crucial week for the administration and its peace efforts, as Obama is scheduled to give what is being billed as a major address on the Middle East on Thursday. In addition, the White House will host Israeli Prime Minister Binyamin Netanyahu late next week for an official visit and an address to Congress that will lay out Israel's views on a possible peace deal.
Palestinian leaders, meanwhile, are preparing to push for de de facto international recognition of an independent Palestinian state by the U.N. General Assembly. The U.N. vote in September would be largely symbolic and is is strongly opposed by Israel.
Mitchell, 77, was appointed as a special envoy to the region in the early weeks of the Obama presidency as the new administration sought to energize the Israeli-Palestinian peace process and make it a central component of a larger Middle East strategy. But despite more than two years of shuttle diplomacy and dozens of meetings with representatives from the two sides, he was unable to gain significant traction in prodding the two sides toward a negotiated settlement.
White House officials said Mitchell's departure did not signal an end to the administration's efforts.
"This president's commitment remains as firm as it was when he took office," Carney said. "The fact that this is a hard issue, an extraordinarily hard issue, is not news to anyone in this room or anyone who's ever attempted to work on it over these many years."
"The fact is that it's important, and the president is committed to continue working on it," Carney said. WP