Hezbollah slams UN chief, accuses him of being a Zionist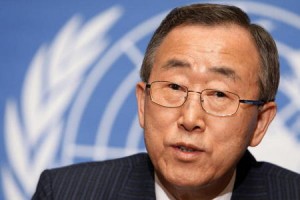 Hezbollah on Thursday evening slammed UN Secretary General Ban Ki-moon's latest report on Security Council Resolution 1559 and accused him of being a Zionist .
Ban's report "shows clearly that [Ban] obviously stands in the ranks of Zionist violators of Lebanon's security and stability," the party said in a statement.
The UN chief takes "unjust and unfair stances in his view of the situation in Lebanon, especially in his blaming Hezbollah for all of Lebanon's problems," the statement said.
Ban "condemns Lebanon's maintenance of its strength and impregnability in confrontation with this aggression" and "justifies the Zionists crimes for them," Hezbollah stated.
"This is the nature of the task that the US administration and some Western governments have given him, which he is implementing precisely instead of performing his role as a guarantor of nations' rights and working to achieve security and peace in the world's states."
Hezbollah will "continue working to protect Lebanon and achieve its dignity and pride under the golden rule of 'people, army, and Resistance' in the stand against Zionist attacks and ambitions," the statement added.
In his six-month report on 1559 to the U.N. Security Council circulated Wednesday, the UN Secretary-General warned that extremists and armed groups could take advantage of the current power and security vacuum in Lebanon where polarization is increasing.
Ban called for the formation of a new Lebanese government that will take "tangible measures" to disarm Hezbollah and Palestinian militias.
The secretary-general said he is "deeply concerned that the combination of mistrust among the parties and the continued presence of militias could lead to tensions and possible insecurity and instability in Lebanon and beyond."
1559 was adopted on September 2, 2004, after recalling resolutions 425 (1978), 426 (1978), 520 (1982) and 1553 (2004) on the situation in Lebanon, the Council supported free and fair presidential elections in Lebanon and called upon remaining foreign forces ( Israel and Syria) to withdraw from the country. The resolution also called on all Lebanese ( Hezbollah) and non-Lebanese militias ( Syrian backed Palestinian militant groups) to disband and declared support for a "free and fair electoral process".
Hezbollah arms have become a major internal concern in Lebanon after the 2006 war between Hezbollah and Israel, when Hezbollah pointed its arms internally against the Lebanese. In October 2006 Hezbollah occupied downtown Beirut with the aim of overthrowing the government of former PM Fouad Siniora and in May 2008 Hezbollah occupied the western part of Beirut and tried but faied to occupy Mt Lebanon .