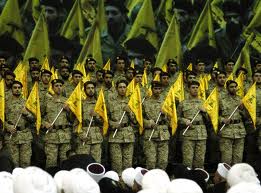 In another attack against the Gulf Island state Hezbollah on Thursday accused the Bahraini authorities of "destroying mosques and houses of worship and desecrating the noble Quran."
"The Bahraini regime has gone too far in its brutal campaign against its people and has completely violated human rights, the party said in a statement.
About a month ago, on March 20 Hezbollah chief Sayyed Hassan Nasrallah also attacked the Bahraini authorities. He called the events in Bahrain a "special injustice", Nasrallah asked whether Arab silence about the repression of protests there is due to sectarian prejudice against the Shiite-majority opposition.
"I ask some in the Arab and Islamic worlds: Why have you remained mum over the tyranny against our people in Bahrain, is it only because they are Shiites?" He said during a TV appearance via video link.
Hezbollah on Thursday called on "Muslim scholars, all international human rights organizations, peoples, and institutions concerned with preserving people's right to worship and practice their religious rites to take a decisive stance on the destruction of houses of worship and the violation of the sanctity of noble scripture."
Bahrain condemned last March Hezbollah's criticism of its government, describing it as an intervention in the Gulf country's internal affairs and held the Lebanese government responsible saying the statements would have a negative impact on the Lebanese-Bahraini bilateral ties.
prior to departing to london on Wednesday PM Designate Nagib Mikati called his Bahraini counterpart Prince Khalifa bin Salman al-Khalifa to thank him for his efforts in halting deportation of Lebanese expatriates residing in the Gulf state and thanked Bahraini King Hamad for his cooperation with Lebanon's request that its expatriates not be blindly expelled .
Earlier this month, Bahrain deported 16 Lebanese, 14 of them Shiites, over "security concerns" amid persistent unrest in the tiny Gulf state.
Bahrain interior minister Sheikh Rashed bin Abdullah al-Khalifa linked Hezbollah to the protests during his address to the parliament on March 29
He accused the predominantly Shiite protesters of being linked to" the Iranian-backed Hezbollah, "as proven by the demonstrators' methods as well as statements of support from the Lebanese Shiite group and Tehran."
"All this reveals a link and the training style of Hezbollah," the interior minister said.
Lebanese expatriates
Even before today's criticism of Bahrain, Lebanese national Zahy Alameh, director of a television station in Bahrain, said the situation has become more complicated for Lebanese expatriates. "Nasrallah's speech has put us in a very difficult position. Some Lebanese,who have residency visas, were not allowed to re-enter the country," he tolls IPS.
Najib, a Lebanese businessman who lives in neighbouring Saudi Arabia and visits Bahrain on a weekly basis, emphasises that most Lebanese with a GCC residency are now systematically turned away at Bahraini customs. GCC residency usually grants holders entry into other GCC countries.
"Out of the four of us who tried crossing the border last week, only one, a Jordanian national, was allowed entry. The rest of us, all Lebanese, were not allowed in," he said.
"The crisis between Lebanon and Bahrain is linked to regional geopolitics between Iran and the Gulf countries. However, Lebanese can't do much about it," Hilal Khashan, political scientist at the American University of Beirut told IPS.
"Hezbollah is militarily in control of Lebanon; Lebanese are thus helpless," says Khashan. If local factions allow regional powers to come into play, the local political crisis in Lebanon could take a turn for the worse.
The Lebanese economy could also be affected by the increased deportation of Lebanese from the Gulf. Plagued by a 55 billion dollar debt, the economy is strongly reliant on foreign direct investment as well as transfers made by its expat community.
According to research company Information International, there are about 500,000 Lebanese residing in the Gulf, working mainly in tourism, building and contracting, media, and banking. While there are no exact figures, some 200,000 live in KSA, 60,000 in the UAE, 50,000 in Kuwait and 40,000 in Qatar.
Economist Ghazi Wazni estimates that of the 8 billion dollars transferred by Lebanese expatriates in 2010 to Lebanon, about 3.5 to 4 billion dollars was sent by those in the Gulf.