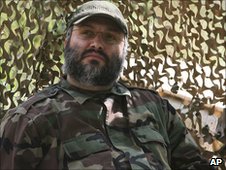 The Lebanese Hezbollah guerrilla group is planning to attack Israeli targets abroad, Israel's Channel 2 Television News reported Thursday night, citing security officials.
The planned attack is 'already in motion,' although no specific target was mentioned, and stems from Hezbollah's determination to avenge the assassination of its chief of operations, Imad Mughniyeh.
Mughniyeh was killed in Damascus in 2008, and Hezbollah blames Israel for his death.
According to the report, the planned Hezbollah attack will not so so large as to spark a war between Israel and the Iranian-backed guerrilla group, but will be a 'hard one.'
Since Mughniyeh's assassination, Hezbollah has tried several times to avenge his death, but their attempts were thwarted in Baku, Azerbaijan; Thailand; the Sinai peninsula; and in Turkey, Channel 2 reported. m&c