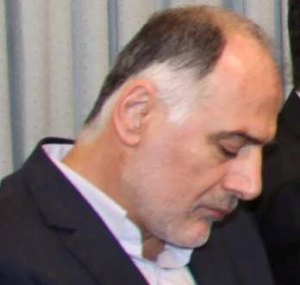 Resigned Minister of Administrative Development Mohammad Fneish, a key  Hezbollah official  said on Sunday that caretaker Prime Minister Saad Hariri should get used to being out of power despite the fact that he doesn't like it .
He added " the time of granting partnership to other parties is over and a government that will accommodate the new majority will be formed "
Fneish criticized Hariri for 'attacking the Islamic Republic of Iran," according to the National News Agency. He said " Iran is a powerful country that threatens the existence of Israel" and accused Hariri of serving the interests of the US and Israel in his criticism of Iran.
Fneish also voiced support for the Syrian regime, adding that "there is a difference between the demand for reform and foreign projects of interference and incitement."
He addressed those who criticized Hezbollah for supporting protests in Bahrain, asking, "What is your response to your direct interference in what is going on in Syria?" In reference to the Syrian government owned TV broadcast alleging that a Future Movement MP was financing the protests in Syria .
Hezbollah was reportedly created by the Iranian Revolutionary Guards in 1982 with the aim of establishing an Islamic republic in Lebanon.
MP Dory Chamoun, National Liberal Party chief said last Monday that Hezbollah never represented Lebanese politics "for it's a Persian party that is trying to hide behind Lebanese legitimacy "
Hariri – whose government collapsed in January – recently said that the Lebanese do not accept that their country become an "Iranian protectorate," adding that the same goes for "Kuwait, Bahrain, or any Arab country."
picture: Resigned Minister of Administrative Development Mohammad Fneish is shown during the meeting of Caretaker   Lebanese Premier Saad Hariri  with Iranian Supreme leader Ayatollah Seyyed Ali Khamenei   in Tehran, Nov. 29, 2010
This error message is only visible to WordPress admins
Error: No connected account.
Please go to the Instagram Feed settings page to connect an account.