Hariri meets Khamenei in pictures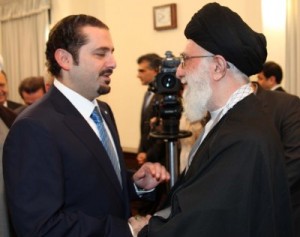 Lebanese Prime Minister Saad Hariri met with the Supreme Leader of the Islamic Revolution Ayatollah Seyyed Ali Khamenei on Monday.
According to the PM's office Khamenei urged the visiting Lebanese premier to "consolidate relations" with Hezbollah.
"This relationship should be strengthened more than ever before," Khameni reportedly told Hariri
Khamenei also reportedly told Hariri that "as long as the Zionist regime exists, Lebanon needs resistance, " in reference to Israel.
This is Hariri's third day in Iran
Hariri met on Sunday evening Iranian President Mahmoud Ahmadinejad and discussed the latest regional developments as well as bilateral relations and means to improve them, according to a statement issued by the PM's press office.
Ahmadinejad reportedly urged Hariri and Hezbollah to work together against Israel.
Like Ahmadinejad , Khamenei reportedly also urged the Lebanese government to work with Hezbollah
"If the government and the resistance form part of the same front, this country will follow the path of greatness and development, and the Zionist regime will not be able to do it the least harm," he said.
Khamenei stressed during the meeting that Lebanon is at the forefront of struggles against the Israeli regime, adding that Lebanon is the only country which has been able to defeat Israel.
Hariri also on Sunday met with Iran's defense minister at a military fair in Tehran, who said that Iran was ready to cover Lebanon's defense needs and also that of the militant Hezbollah group , the ISNA news agency reported.
"Iran has constantly said that it would be beside the Lebanese army and resistance (Hezbollah) and ready to cover the country's defense needs," Ahmad Vahidi said .
Following his meeting with the Iranian supreme leader Hariri held a joint press conference with Iranian first Vice President Mohammad Reza Rahimi.
The premier stressed that it was the duty of the Lebanese to preserve Lebanon's stability. "The assistance of friends is an value added ," he said.
Hariri also hailed Saudi-Syrian efforts to avert an explosive situation in Lebanon.
"I would like to reassure everyone that things are on the right track under the national dialogue and Saudi-Syrian umbrellas ", he said
Hariri said national unity preserved the army-people-resistance equation which is adopted by the Lebanese government.
Hariri also said that his country will not be part of any international group that aims to pressure Iran over its controversial nuclear program.
Hariri explained that Lebanon supports Iran's right to have nuclear power for peaceful purposes.