UNIFIL hosts LAF-IDF talks over Israeli withdrawal from Ghajar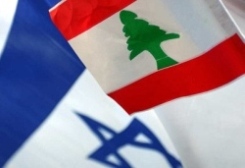 The United Nations Interim Force in Lebanon, or UNIFIL hosted a meeting for the representatives of the Lebanese and Israeli armies (LAF, IDF) at its base in Naqoura on Monday morning, National News Agency (NNA) reported.
The purpose of the meeting was to discuss the Israeli plan to withdraw from the northern part of the town of Ghajar and "repeated violations of the Blue Line," the report said.
Israeli Ministers on November 17 approved the withdrawal of Israeli troops from the northern half of Ghajar, a divided town that straddles the Lebanese border, according to Israeli newspaper Haaretz. Israel reportedly is planning to hand over the control of the town to UNIFIL.
Most residents of Ghajar belong to the Alawi sect, an offshoot of Shia Islam, whose adherents include Syrian President Bashar al-Assad and the Syrian political elite.
Residents of Ghajar are reportedly angered over the prospect of the community being split.
Together with the Golan Heights, the southern half of Ghajar was taken by Israel in the 1967 Six Day War with Syria. After Israel annexed the Golan in 1981, Ghajar fell under official Israeli jurisdiction and most of its residents have accepted Israeli citizenship.
Over the years, the village expanded northwards into Israeli-controlled southern Lebanon, incorporating the Lebanese village of Wazzani. The UN demarcated the Israeli-Lebanese border following Israel's withdrawal from southern Lebanon in 2000, granting Lebanon control of the northern section of Ghajar. However, Israel re-took the entire village following its war with Hezbollah in 2006.