New initiative to breathe life into the ME peace process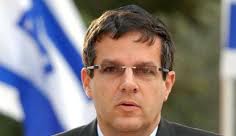 AN influential group of Israeli defence, intelligence and business figures has developed a peace plan to try to breathe life into the Middle East peace process.
The Israel Peace Initiative was unveiled yesterday and its 53 signatories include two former leaders of intelligence agency Shin Bet, a former chief of Mossad and a former chief of the Israeli Defence Forces.
It includes Yuval Rabin ( pictured) , son of Yitzhak Rabin, Israel's prime minister who pushed vigorously for peace but was assassinated by a Jewish extremist.
The plan sets out a Palestinian state along 1967 lines but includes land swaps to accommodate larger Jewish settlements.
Compensation would be provided by the international community for some Palestinian refugees and provision for others to resettle in a new Palestinian state.
In Jerusalem, Israel would have sovereignty over Jewish neighbourhoods and Palestinians would have sovereignty over Arab neighbourhoods.
Start of sidebar. Skip to end of sidebar.
End of sidebar. Return to start of sidebar.
Israel would receive normalisation of relations with all 22 Arab countries.
Former Shin Bet chief Yaakov Perry said Israelis were now being seen as "peace refuseniks" and no longer had "the luxury of sitting on the sidelines".
"Our continued presence in the territories is a threat to Zionism," he said. "With every passing minute, further damage is done to the state of Israel."
He said dramatic changes were occurring in the region, "most of which are not being led by extremist groups".
"We must rid ourselves of the paradigm that led us for years to look at our neighbours as a single bloc," Mr Perry said.
Mr Rabin told Yedioth Ahronoth: "The state of Israel has no foreign policy path. The Prime Minister (Benjamin Netanyahu) is not initiating such a path and is not presenting an alternative to horrific scenarios that I don't even want to think about."
Documents leaked to WikiLeaks quote settlements leader Danny Dayan telling US officials some settlers would leave "if the price is right". The Australian