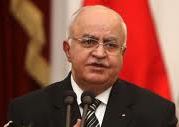 Syria's state media say the government of Prime Minister Mohammed Naji al-Otari has resigned and the country's president has accepted the resignations.
The reports say President Bashar al-Assad accepted the Cabinet resignations on Tuesday, following more than a week of anti-government protests.
The Associated Press says the 32-member Cabinet will continue running the country's affairs until President Assad forms a new government.
Earlier Tuesday, tens of thousands of Syrians took to the streets to rally in support of the government as the nation awaits an expected address by President Assad.
Government supporters poured into the streets of the capital Damascus and other major cities to take part in the government-sanctioned rallies. The demonstrators chanted and waved flags and pictures of the president.
News reports say President Assad could announce an end to Syria's nearly 50-year-old emergency laws when he addresses the nation in the coming days.
The opposition protests represent the most serious threat to President Assad's 11-year-rule and the long-standing authority of his family.
Syrian security officials have cracked down on the demonstrations, firing tear gas and live ammunition to disperse protesters. The U.S.-based rights group Human Rights Watch says at least 61 people have been killed since the unrest began.
Syrian officials say at least 12 people were killed in unrest in the port of Latakia on Friday and Saturday. Witnesses and human rights groups say security forces fired on protesters. Authorities blame armed extremists and foreign powers for inciting the violence.
The southern city of Daraa has been the focal point of the demonstrations.