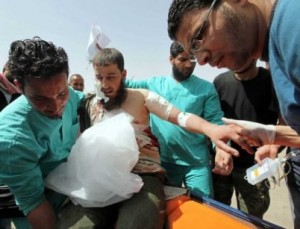 Libyan government tanks and rockets have driven back rebels who attempted an assault on Moammar Gadhafi's hometown of Sirte. Opposition fighters fleeing in a panicked scramble pleaded for international airstrikes that never came.
Gadhafi's forces drove the rebels out of Bin Jawwad, a hamlet east of Sirte, on Tuesday. Cars and trucks of the retreating rebels filled both lanes of the highway east to the oil port of Ras Lanouf.
Some fleeing rebels shouted "Sarkozy, where are you?" — a reference to French President Nicolas Sarkozy, one of the strongest supporters of airstrikes against Gadhafi's forces.
There were no international airstrikes in Bin Jawwad during the hour-long battle there, possibly because of overcast skies.
Earlier, Libya's interim National Council also said on Tuesday it would hold free and fair elections to ensure a transition to democracy if Gadhafi were forced from power.
Rockets and tank fire sent Libya's rebel volunteers in a panicked scramble away from the front lines, suggesting that the opposition is still no match for the superior firepower and organization of Gadhafi's forces, despite an international campaign of deadly airstrikes.
A UN-mandated no-fly zone and campaign of strikes by the U.S. and its allies helped rebel forces regain territory lost of the past week, when they were on the brink of defeat by government forces.
Tuesday's shelling and the undisciplined volunteers' disorganized flight in their pickup trucks, however, showed that the rebels' fundamental inability to counter Gadhafi's heavy weapons without extensive outside help.
United Nations Secretary-General Ban Ki-moon, United States Secretary of State Hillary Rodham Clinton, the Arab League, the African Union and around 40 foreign ministers are in talks in London, seeking to ratchet up pressure on Gadhafi.
At the meeting, Clinton implored the world to speak with a single voice to Gadhafi and tell him to leave power.
Clinton told an international conference on Libya's future that countries must work together to ensure that the North African country "belongs not to a dictator, but to its people."
She said Tuesday that all of the countries represented at the gathering in London "must speak with one voice in support of a transition that leads to a brighter future for Libya."
Sweden plans to send up to eight fighter jets to help enforce the UN-mandated no-fly zone over Libya after receiving a request for assistance from NATO, the prime minister said Tuesday.
Fredrik Reinfeldt, who leads Sweden's centre-right coalition government, said a decision in Parliament was expected Friday, and the planes could depart from Sweden shortly after that.
He said the JAS 39 Gripen planes can not be used to bomb Gadhafi's ground forces. However, they will have a mandate to return fire if they come under attack.
The Swedish offer also includes a transport plane and 130 personnel and will be made available for three months, Reinfeldt told lawmakers. The proposal needs approval from Parliament.
With a long tradition of neutrality in war, Sweden is not a member of NATO but has contributed ground forces to NATO-led operations in Afghanistan and the Balkans.
Meanwhile, the U.S. will soon send an envoy to Libya to deepen relations with leaders of the rebels seeking to overthrow Gadhafi, the official said.
Clinton met Tuesday with a representative of the Libyan opposition as the Obama administration looked to expand ties with rebel leaders seeking an end to four decades of dictatorship.
Italian Foreign Minister Franco Frattini said several nations planned to put forward a deal which would propose a cease-fire, exile for Gadhafi and a framework for talks, between Libya's tribal leaders and opposition figures, on the country's future.
In a sign of emerging ties between the opposition and the international community, a senior U.S. administration official said it would soon send an envoy to Libya to meet with leaders of the rebels.
The official said American diplomat Chris Stevens will travel to the rebel stronghold of Benghazi in the coming days to establish better ties with groups seeking to oust the longtime Libyan leader. The move doesn't constitute formal recognition of the opposition.
The official spoke on condition of anonymity to discuss internal planning, as Secretary of State Hillary Rodham Clinton was preparing to meet Libyan opposition envoy Mahmoud Jibril in London.
In an open letter to the international community, meanwhile, Gadhafi called for a halt to the "monstrous assault" on Libya and maintained that that the rebels were supported by the al-Qaida terrorist network.
"What is happening now is providing a cover for Al Qaeda through airstrikes and missiles to enable Al Qaeda to control North Africa and turn it into a new Afghanistan," he said, accusing the international community of carrying out genocide against the Libyans.
The rebels remain woefully outgunned by Gadhafi's forces and it is unclear how they can take the stronghold of Sirte without further aggressive international air support.
NATO has insisted that it was seeking only to protect civilians and not to give air cover to an opposition march. But that line looked set to become even more blurred. The airstrikes are clearly the only way the rebels bent on overthrowing Gadhafi are going to continue their push to the capital.
There was growing criticism from Russia and other countries that the international air campaign is overstepping the bounds of the UN resolution that authorized it.
The complaints came at a critical transition in the campaign from a U.S. to a NATO command. That threatens to hamper the operation, as some of the 28 NATO member nations plan to limit their participation to air patrols, rather than attacks on ground targets.
Rebels made it to Nawfaliyah some 100 kilometres from Sirte on Monday, but judging by the location of Tuesday's bombardment, they have been driven back to the hamlet of Bin Jawwad, a few dozen kilometres to the east.
"Gadhafi's forces are firing from Wadi al-Ahmar, including grad rockets, artillery and mortars," said rebel fighter Adel Sirhani, referring to a strategic valley outside Sirte. "It's very intense."
In a scene reminiscent of the rebels' retreat last week, panicked volunteers jumped into their pickup trucks and attempted to speed away from the bombardment kicking up dust clouds and choking the narrow coastal highway in a mad scramble of vehicles.
Sirte is dominated by members of the Libyan leader's Gadhadhfa tribe. But many in another large tribe — the Firjan — are believed to resent his rule, and rebels are hoping to encourage them and other tribes there to help them.
"This is their last defensive line they will do everything to protect it," explained rebel fighter Twate Monsuri, 26. "It's not Gadhafi attacking us, he's just defending himself now."
Fighting in such a densely populated area is likely to complicate the rebels' advance and add to the ambiguity of the NATO-led campaign, authorized by a Security Council resolution to take all necessary measures to protect civilians.
Gadhafi is not on the defensive everywhere. His forces continued to besiege Misrata, the main rebel holdout in the west and Libya's third-largest city. Residents reported shelling by government tanks of residential areas, with three people killed.
Libyan officials took foreign journalists on a tour of the city's outskirts but not into the centre, indicating government control did not extend far. Explosions and gunfire echoed through empty streets lined with burned out tanks and bullet-scarred buildings.
The U.S. navy, meanwhile, reported that two of its aircraft and a guided missile destroyer attacked a number of Libyan vessels "firing indiscriminately" at merchant ships in the port of Misrata, rendering them inoperable.
One of Libya's top officials, meanwhile, abruptly made a "private visit" to Tunisia late Monday, according to the official news agency there.
Government spokesman Moussa Ibrahim in Tripoli insisted on Tuesday that Foreign Minister Moussa Koussa's visit was not a defection. the star
Photo: Wounded Libyan rebel