Qatar flies first sortie over Libya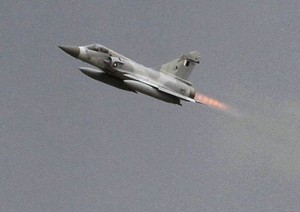 The U.S. military says Qatar has flown its first sortie after joining the forces of 10 other nations enforcing the no-fly zone over Libya.
A Qatar air force Mirage 2000-5 flew alongside a French Mirage 2000-5 fighter jet in a patrol Friday over Libyan airspace, the military said in a statement.
Qatar has deployed six Mirage fighters and two C-17 transport jets to support the operation.
U.S. Air Forces Africa Commander Maj. Gen. Margaret Woodward says that "having our first Arab nation join and start flying with us emphasizes that the world wants the innocent Libyan people protected from the atrocities perpetrated by pro-regime forces.
The United Arab Emirates has also said it will contribute but is not yet flying aircraft.
AP