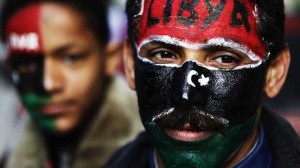 A former Libyan prime minister participating in talks at the African Union says his country is ready to talk with opposition rebels and accept political reforms, possibly including elections.
Abdul-Ati al-Obeidi said Friday that the violence in Libya is being carried out by "extremists" and foreign intervention. Al-Obeidi is a member of the Libyan delegation at African Union talks in Ethiopia.
"We are ready to discuss what the Libyan people want," he said. "What kind of reform do they want? If it is elections we are willing to discuss about the details. We are willing to negotiate with anyone. These are our people. There is no division between the Libyan people; there is a division between extremists and the Libyan people."
This comes as French and British warplanes attacked targets near the Libyan city of Ajdabiya overnight as part of co-ordinated strikes against Moammar Gadhafi's forces.
NATO said it would assume responsibility for the no-fly zone over Libya, an arrangement that appeared to set up dual command centres and possibly new confusion.
France's army chief of staff, Admiral Edouard Guillaud, said Friday a warplane destroyed an artillery battery.
British Defence Secretary Liam Fox said British Tornado GR4 Aircraft launched a number of guided missiles at Libyan armoured vehicles "which were threatening the civilian population of Ajdabiya."
The strategic city has been under siege for more than a week, with the rebels holding the city centre and scattered checkpoints but facing relentless shelling from government troops on the outskirts.
Residents are without electricity or drinking water, and many have fled. Some of the people who poured out of Ajdabiya have made their way to the rebel-held city of Benghazi, in the east.
"Dozens, and even hundreds of them are now homeless because of the situation," CBC's Nahlah Ayed said from Benghazi.
"Still, they're happy to be alive, they're happy at least to be away from the fighting and they're desperate for this to be over as quickly as possible."
Explosions also could be heard in the capital of Tripoli before daybreak Friday, apparently from airstrikes.
The UN Security Council authorized the no-fly zone to protect Libyan civilians after Gadhafi launched attacks against anti-government protesters who wanted him to leave after 42 years in power.
NATO Secretary General Anders Fogh Rasmussen said Thursday there would still be a coalition operation and a NATO operation.
"We are considering whether NATO should take on the broader responsibility in accordance with the UN Security Council resolution, but that decision has not been reached yet," he said.
Defence Minister Peter MacKay said Thursday that it was sending two CP-140 Auroras to help conduct surveillance along the coast. NATO warships and planes started patrolling international waters near Libya's coast earlier in the week as part of an effort to enforce a UN-backed arms embargo.
African Union calls for transition phase
The chief of the African Union called for a transition period in Libya that would lead to democratic elections.
A Libyan government delegation was meeting in Ethiopia with five African heads of state, who plan to present a road map to encourage political reform in the north African country.
Although there were reports an opposition representative would attend, Mustafa Gheriani, an opposition spokesman, said Friday he knew nothing about it.
"The position of the national council has been clear from the beginning — no negotiaions," Gheriani said. "All he has to do is stop bombing and leave the country."
AU commission chairman Jean Ping said in an opening speech Friday that the African Union favours an inclusive transitional period that would lead to democratic elections.
Ping stressed the inevitability of political reforms in Libya, and said that he believes a consensus can be reached between the rebels fighting against the Gadhafi regime.
CBC