Eiffel Tower Reopened After Bomb Threat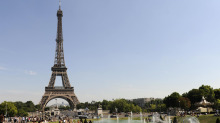 A bomb threat and the discovery of a suspicious package spurred French authorities to briefly evacuate nearly 4,000 tourists from the Eiffel Tower on Wednesday, tower officials and police said.
No explosives were found, and the site in the French capital was reopened to visitors more than two hours after the original warning, said a Paris police official.
Police officers cordoned off the sandy plaza beneath the tower and soldiers in camouflage gear patrolled the site after the evacuation. Onlooking crowds were kept at bay by red-and-white police tape which surrounded the Paris landmark.
While officers checked for explosives, schoolchildren and tourists brandishing tickets also gathered on the banks of the Seine River. The 324-meter (1,063-foot) tower is one of the world's top tourist attractions, with millions of visitors a year.
The police official said nearly 4,000 people were evacuated from the monument after an anonymous caller said it would be blown up at 1700 GMT.
An official at SETE, the company that manages the tower, said a suspicious package was found on the plaza beneath the tower on Wednesday afternoon.
Both officials spoke on condition of anonymity, saying the situation is still being investigated.
The link between the package and the call was not immediately clear, nor was the reason for the threat. The tower is occasionally evacuated because of such warnings — twice last September after French officials said they were on alert for possible terror attacks by al-Qaida's North African affiliate on crowded targets. No explosives were found.
France is currently at the forefront of an international military operation against Moammar Gadhafi's forces in Libya. It has received general, unspecified threats from extremists in the past related to its troops in Afghanistan and a law banning Islamic face veils in public.
France's terror alert has been on level red, the second-highest level on its alert system, since 2005.