Franjieh in Damascus to discuss Lebanon cabinet with Assad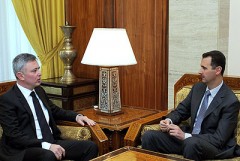 Despite the turmoil in Syria , the embattled Syrian President Bashar al-Assad met with Marada Movement leader MP Suleiman Franjieh to discuss the issue of the Lebanese cabinet formation and the latest developments in the Arab world.
Franjieh , the grandson of former Lebanese president Suleiman Franjieh is a staunch ally of Syria and a regular visitor to Damascus.
One of Franjieh's Grandfather last acts as president in 1976 was to ask his old friend President Hafez Assad to send the Syrian army into Lebanon to restore order.
Inspired by the wave of pro-democracy protests around the region, the uprising in the southern Syrian town of Deraa and at least four villages nearby has become the biggest domestic challenge since the 1970s to the Syrian government, one of the most repressive in the Middle East. Security forces have responded with water cannon, teargas, rubber bullets and live ammunition. The total death toll now stands at 16 including an 11 year old girl.