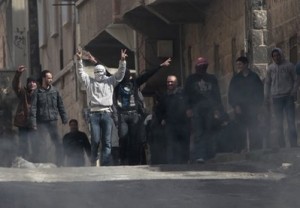 Syrian police launched an assault on a neighbourhood sheltering anti-government protesters, fatally shooting at least nine in an operation that lasted nearly 24 hours, witnesses said.
At least six were said to have been killed in an early morning attack on the al-Omari mosque in the southern agricultural city of Deraa ( or Daraa), where protesters have taken to the streets to calls for reform and political freedoms. An activist in contact with people in the city said police shot three other protesters in the city centre after dusk.
Inspired by the wave of pro-democracy protests around the region, the uprising in Deraa and at least four villages nearby has become the biggest domestic challenge since the 1970s to the Syrian government, one of the most repressive in the Middle East. Security forces have responded with water cannon, teargas, rubber bullets and live ammunition. The total death toll now stands at 16.
Democracy activists used social-networking sites to call for massive demonstrations across the country on Friday, a day they dubbed Dignity Friday.
An activist in Damascus in contact with people in Deraa said six had died in the raid on the mosque. A witness in the city said five people had been killed, including a woman who looked out of her window to see what was happening during the operation, which began after midnight and lasted for about three hours.
Heavy shooting rattled the city until at least the early afternoon, when bursts of semi-automatic gunfire could be heard echoing in its old centre.
State TV said an "armed gang" attacked an ambulance and security forces killed four attackers and wounded others and was chasing others who fled. It denied security forces had stormed the mosque, but also showed footage of guns, AK47s, hand grenades, ammunition and money it said had been seized from inside.
Mobile phone connections to the city were cut and checkpoints throughout Deraa were manned by soldiers in camouflage uniforms and plainclothes security agents with rifles. Anti-terrorism police wearing dark blue uniforms were also on the streets.
The witness said hundreds of anti-terrorism police had surrounded the mosque.
The unrest started with the arrest last week of a group of students who sprayed anti-government graffiti on walls in Deraa.
Photo: Anti-Syrian government protesters flash V sign as they protest in the southern city of Daraa, Syria, Wednesday March 23, 2011.
Guardian