Syrian opposition figure: citizens crave reform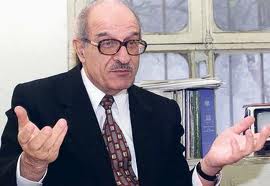 Leading opposition figure Haitham al-Maleh said on Monday that a desire for democratic reform was near-universal in Syria, and dismissed the idea that it would lead to sectarian rule.
"The revolution is at the door and the regime is still flirting with change," said Maleh, an 80-year-old lawyer and former judge who has spent his life peacefully resisting the ruling Baath Party's monopoly on power, much of it from prison.
A tide of popular uprisings against autocratic Arab rulers reached Syria last week, when security forces killed four people at demonstrations in the town of Deraa.
The protests, the biggest challenge to 45-year-old President Bashar al-Assad's rule since he succeeded his father 11 years ago, spread to the town of Jassem on Monday.
Maleh, released from jail two weeks ago under an amnesty for elderly prisoners, said the ruling hierarchy was incapable of launching the political reforms that could avert a crisis.
"All the Syrian provinces will erupt. There is near consensus that this regime is unsustainable. The masses do not want it," he told Reuters in an interview.
"Corruption has eaten the system to the bone. The security apparatus is not accountable to any law. Sixty percent of the population is poor. Almost a third of the workforce is unemployed," said Maleh, whose estimates are sharply higher than official figures.
Maleh said Syria needed to curb its pervasive security apparatus, develop the rule of law, free thousands of political prisoners, allow freedom of expression, and reveal the fate of tens of thousands of dissenters who disappeared in the 1980s.
"NO SECTARIANISM"
Maleh dismissed official arguments that Syria, a country of myriad sects and ethnicities, is not ready for a Western style democracy, and hints that Islamists would take control if Syria's secularist ruling elite were to go.
"Syrians do not have in their hearts something called sectarianism. I recall the 1950s, when the Islamists failed to make Islam the official religion of Syria. They said they had lost the battle but won a united homeland," he said.
In 1982 the late president Hafez al-Assad sent troops into the city of Hamah to crush the armed wing of Syria's Muslim Brotherhood. The security forces killed 30,000 people.
Maleh said scores had been added to the missing lists after the authorities put down an uprising in Sednaya jail near Damascus three years ago.
"Imagine the relatives of those killed who do not have anything to prove that their husbands, fathers or sons are dead," he said.
Hafez al-Assad imprisoned Maleh for six years in the 1980s for criticised a Baath takeover of professional unions.
Last July, Maleh was jailed for three years for criticising corruption and demanding information on the fate of missing people.
"Before the last time I went to jail, a security chief met me for lunch to hear my views. After we finished he told me: 'You will have to tolerate our repression'," Maleh said.
"Why should I? Why should the rest of Syria?"