Thousands protests in Syria for third day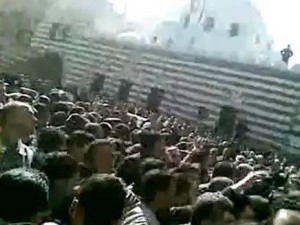 Thousands of people protested in the Syrian city of Deraa on Sunday as a government delegation arrived to pay condolences for victims killed by security forces in demonstrations for freedom this week, residents said.
The demonstration marks the third day of protests in Deraa, a main city in the strategic Hauran plateau where security forces earlier killed at least six protesters this week.
The witnesses in Daraa say protesters are angry about mass arrests and are calling for officials involved in the violence to be fired. They spoke on condition of anonymity for fear of retribution.
Activists in Damascus in contact with Daraa residents said police fired tear gas and bullets in the air to disperse the protesters. The report could not be immediately confirmed.
Children prisoners
The Syrian government says it will release 15 children whose arrest helped fuel several days of protests
An official statement released on Sunday said the children, who had written pro-democracy graffiti inspired by the uprisings in Tunisia and Egypt, would be released immediately.
Their release would be a rare concession from Syria's ruling hierarchy, which rarely responds to popular pressure. But it has done little to deter protesters in the southern city of Daraa: Thousands of them took to the streets again on Sunday, angered by the deaths caused when security forces shot into a crowd on Friday.
Two of those people were buried in Daraa on Saturday; thousands of attendees at their funeral chanted "revolution."
On Saturday, Syrian authorities announced that they would establish a commission of inquiry into the violence.
Daraa has seen the largest protests in the country. Smaller demonstrations have erupted in Damascus, the central city of Homs, and the port city of Banias.
Daraa is primarily an agricultural community, and the economy has been hurt by falling water levels in recent years. The region also houses thousands of people who left their homes in eastern Syria because of an ongoing water crisis.
The non-violent protests started last Tuesday after calls on Facebook demanding greater freedom in the country, which has been under emergency law since 1963.
Reuters, Al Jazeera