MP sakr calls on Hezbollah to surrender arms to Lebanon army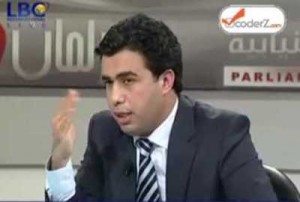 March 14 MP Okab Sakr old MTV on Sunday:"The goal of resistance should be to defend the state, not violate it. When the resistance begins to threaten the state and people, questions arise," he said and added: "A country without resistance is helpless, but a resistance without a state is nothing."
"It is Hezbollah's duty to coordinate completely with the Lebanese state. it cannot and should not cannot take any decision without referring to the state." He stressed
Sakr called on the Resistance ( Hezbollah) to "surrender weapons to the state," adding that "the army is the root and the resistance is the branch."
"Whether we like it or not, there is a sectarian dimension in the subject of weapons," Sakr who is a Shiite himself said, in reference to Shiite support for Hezbollah.
"We are not agitating against the Syrian regime, but there are some in Lebanon agitating against the Saudi regime," he also said, while voicing hope that "the Syrian leadership find its way toward reform."
Addressing a popular rally of tens of thousands of supporters at the end of his three-day visit to Tripoli, Caretaker Prime Minister Saad Hariri stressed on Friday that any sect that tried to control Lebanon has failed .
Hezbollah Secretary General Sayyed Hassan Nasrallah on Saturday evening dismissed the March 14 alliance's recent campaign against non-state weapons as unworthy of serious discussion, saying that the fact that the campaign had not provoked armed clashes meant that "no one has a gun to their head."
More than one million Lebanese of all faiths… Christians. Druze , Muslim Shiites and Sunnis demanded that Hezbollah be disarmed as they rallied last Sunday March 13, to mark the sixth anniversary the Cedar Revolution, the uprising which inspired the recent revolts in the Middle East, International news agencies reported
The Iranian and Syrian -backed Hezbollah brought down Hariri's government on January 12 over the Special Tribunal for Lebanon's (STL) imminent indictment which is widely expected to implicate Hezbollah members in the assassination of former PM Rafik Hariri in 2005
Nagib Mikati was appointed in January as the PM designate with the backing of the Hezbollah March 8 alliance and MPs Walid Jumblatt and Mohammad Safadi following the collapse of Hariri's unity government. March 14 leaders have repeatedly said that intimidation from Hezbollah's weapons helped secure the parliamentary majority for Mikati's nomination.
Jumblatt and his PSP parliament members reportedly switched allegiance to Hezbollah's PM candidate, following threats by Hezbollah.
Jumblatt, Mikati and Safadi were all elected on March 14 electoral tickets during the 2009 parliamentary elections. Now Lebanon