No green light yet for cabinet formation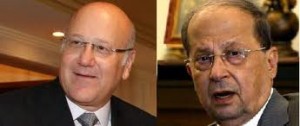 Despite reports that the government deadlock is caused by the demands of Free Patriotic Movement leader MP Michel Aoun , well informed sources told An Nahar newspaper that the actual impasse was due to a lack of a regional green light on the cabinet formation.
Both Syria and Iran are reportedly awaiting the outcome of the uprisings in the region the sources said and Aoun is being used as a coverup to delay the formation by making excessive demands . Aoun has reportedly been demanding 12 out of the 3o cabinet seats.
A Syrian decision on the government is inevitable, they also said, adding that Damascus wouldn't give any green light to Mikati before agreeing with Riyadh. "But this hasn't happened yet."
Al-Hayat also quoted informed sources as saying that Syria should interfere to facilitate the cabinet formation. They did not rule out a possible Syrian meddling in the next few days.
Qazzi
During an interview with LBC Sunday morning, Phalange Party deputy head Sejaan Qazzi blamed March 8 for the delay in cabinet formation
"Prime Minister-designate Najib Mikati's problem is now with the majority that nominated him," Qazzi said
"It has become clear that March 8 has delegated Mikati with not forming the cabinet, due to the obstacles they are placing before him," he said
"What we see today is a project of putting the country in a vacuum in a stage where decisions need to be made."
Aridi
Caretaker Minister Ghazi Aridi called for the quick formation of the cabinet, which he said is facing domestic and foreign pressure. The new government "should be in harmony over its choices and political stances." He was quoted by NNA as saying
Any delay in the formation of the cabinet would adversely reflect on the stability and security of Lebanon and economic and financial situations in the country would suffer.
Commenting on the no-state arms issue he said on Sunday that a "political decision" was preventing the arming of the Lebanese military with weapons that will enable it to confront Israel.
While Aridi did not say who had taken such a political decision, he stressed that Lebanese leaders should take a "unified stance" that says "no to using arms domestically by any side or any team."
Addressing the March 14 alliance which has been leading a campaign against non-state arms Aridi asked: "What should we do? There is no capable state nor you want (Hezbollah's) arms."
He said one of the solutions to the controversial issue of Hezbollah's weapons was the resumption of national dialogue.
More than one million Lebanese of all faiths… Christians. Druze , Muslim Shiites and Sunnis demanded that Hezbollah be disarmed as they rallied last Sunday March 13, to mark the sixth anniversary the Cedar Revolution, the uprising which inspired the recent revolts in the Middle East, International news agencies reported